Car Insurance Comparison Site Revs Up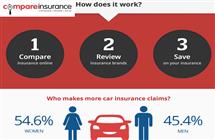 A new insurance comparison site has arrived in Australia called CompareInsurance.com.au, and while its makers are promoting it for car insurance, the site wants to sell you insurance for almost anything. 

This includes car, home, bike, travel, life, landlord, income, pet, caravan and health insurance.  

It's important to know that comparison sites don't guarantee to give you a comparison between every item available in the market, but often just from a selection of companies it represents, and from which it earns commission for each successful sale. 

CompareInsurance.com.au

claims to be different through its "new quoting engine", which in a claimed "first", lets customers see real reviews on of the companies concerned during the comparison process. 


Click to enlarge

This lets potential customers see what others really think about customer experience, value for money and the insurance claims experience, as well as letting users have their own say to inform others. 

CompareInsurance promotes the time-saving aspect of its service, saving people from wasting half a day talking to various company call centres by filling out a single online form in about 10 minutes, and getting a range of responses back at once. 

Natalie Ball, Director of CompareInsurance.com.au said: "We aim to not only save time and money for customers, but provide peace of mind that they are well informed to choose the right insurance policy".

"An insurers' willingness to be compared in an independent review system builds trust and demonstrates that they are not fearful of transparency".

The following insurance companies are part of the service: Budget Direct, 1st for Women, 1Cover, Virgin Money and AI Insurance. 

CompareInsurance also notes that while it does not cover all insurers in the market, it is actively seeking to add more insurers to the list.

The company also says it has already received great feedback from site visitors who have listed the clear navigation, competitive prices and the site's ease of use as site highlights.

?Buying insurance just isn't as cool as buying hotel accommodation for your next trip, but is one of those "must have" things in life.

Given the arrival of yet another comparison player, I wonder how long it will be before a "compare the comparison sites" model arrives too, just as we've seen in the hotel room bookings space with Trivago. 

Until then, CompareInsurance.com.au is joining a selective market full of health-obsessed and highly competitive meerkats with Eastern European accents. May the best comparison site with the best consumer deals and best ads win!