Why Aren't Harvey Norman Workers Unionising?
Are Harvey Norman workers in fear of being sacked if they complain about their pay?
Let's do some maths.
The average worker ant at Harvey Norman currently earns $21.78 an hour, which is the retail award wage.
When the minimum wage across Australia lifts to $20.33 on Thursday, these retail workers will be earning just $1.45 an hour more than the lowest paid Australians.
The 2.5 per cent rise in the retail award won't come into effect until September 1, due to the "exceptional circumstances" crippling the retail sector.
For the first half of the current financial year (between July 1 – December 31, 2020) Harvey Norman — buoyed by the rise in home entertainment spending during the pandemic — reported a 115.8 per cent rise in profit, after tax, to $438 million.
Consolidated revenue rose 27 per cent to $2.34 billion.
Harvey Norman also wiped half a billion dollars in debt. Those are exceptional circumstances, I agree!
Harvey Norman's been having a bit of a rough week so we sent the Surprise Spruiker to help them out pic.twitter.com/UkGEb0ijLN

— The Chaser (@chaser) June 1, 2021
Like many business, Harvey Norman received JobKeeper money during the pandemic, in this case, to the tune of $22 million.
Unlike many businesses — the majority of them much, much smaller businesses — Gerry Harvey has made it very clear he has no plans to pay the money back, despite these eye-watering profits.
"JobKeeper was put in by the government for the health of the economy," he reasoned. "The economy responded and JobKeeper did its job."
This is true.
"Some people think it's a great idea to repay it, that's their opinion," he continued. "At this stage, we're not going to repay it."
Of course, that's an appalling stance for a billionaire to have. Or for, you know, a human to have.
Shadow Assistant Minister for Treasury Andrew Leigh was among the chorus that called for Harvey to play fair, pointing out after those above comments that "at a time in which one million Aussies are out of work, taxpayers shouldn't be supporting a billionaire. Time to pay it back, Gerry."
Gerry Harvey's Harvey Norman got $22 million in JobKeeper for its head office & franchisees. Their sales were already rising in March 2020, and shot to new records by late-2020. Gerry Harvey received millions in dividends. The company refuses to repay JobKeeper. (2/4) pic.twitter.com/qlW29cOjrJ

— Andrew Leigh (@ALeighMP) March 20, 2021
Of course, Harvey only believes in fair play when it benefits him – as we saw when he posted the company's impressive half-year profits in late February, only to see share prices plummet 4 per cent.
"We put out this result, which is extraordinary, and our share price dropped," the befuddled man cried.
"It's like you're wounding me. Why are you sticking knives in me? The blood's flowing freely.
"Why don't they just accept the fact we're doing such a wonderful job out there, expanding and growing our business?"
The reason is because you gleefully posted a profit of $462 million over a six-month period, then refused to pay back money the tax-payer stumped up in order to rescue the economy.
The reason is because not everybody is ruthless in business, and in fact, a lot of people vote morally with the companies they choose to invest in.
The reason is because Harvey continues to say tone deaf nonsense like: "From our point of view it's a tiny amount of money and our thoughts are all about our business going forward," during a pandemic." That tiny amount of money he refers to is the $22 million.
The reason is because Gerry Harvey actually fought the rise in minimum wage, fought to pay his workers less in a year that has seen those same workers bring in insane profits for his company.
The reason is because Gerry Harvey has refused to negotiate any union agreements in his stores. Ever.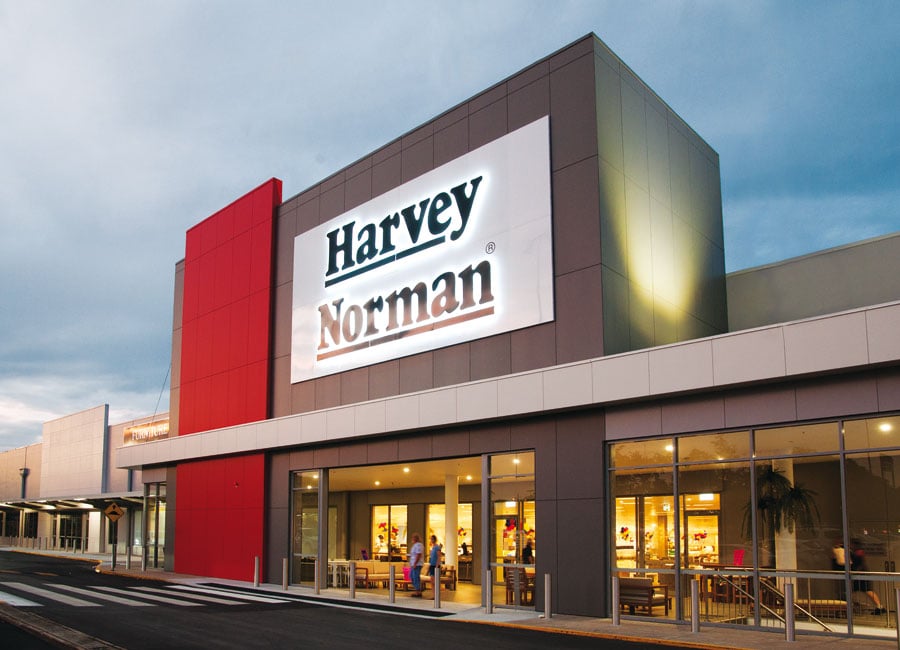 Remember, this article is about workers unionising. So, why aren't they?
Why didn't Harvey Norman workers actually rally outside Harvey Norman stores, which the ACTU announced in a press release on May 28, stating: "Workers are protesting outside Harvey Norman stores across the country today."
This was technically true.
But, as journalist Duncan Hart points out, those picketing the stores that day weren't Harvey Norman workers.
No stores closed, no HN workers marched, they instead stayed in the store, shilling discount stock for $21.78 an hour.
Those in front of Harvey Norman stores were other union members – from the Shop, Distributive and Allied Employees' Association, from the Australian Workers Union, from the Transport Union, from the ACTU.
But Harvey Norman workers aren't unionised. And, therefore, the ACTU doesn't work for them. Neither does the Shop, Distributive and Allied Employees' Association.
Nobody works for them. They work for Gerry Harvey, who says things like the following quote, given to AFR after the latest Federal Budget continued to prop up business interests.
"They've thrown a heap of money at us! Obviously we're stimulating the economy with these latest handouts. It's just extraordinary … and it seems to be happening in other countries as well – there seems to be this worldwide view you throw money at stuff."
If only that were true of Harvey. The workers that prop up his empire aren't seeing much money thrown their way.
Of course, they haven't unionised.