REVIEW: Marshall Emberton & Tufton Boomboxes – Cool Design, Thumping Sound
Audio firm Marshall has built a strong brand name in the sound and music market.
And in the portable speaker arena, the UK-based company has a series of stylish, quality speakers with good audio and interesting design.
I reviewed the smaller boombox-style Emberton and bigger speaker Tufton and found both products to have a serious cool factor mixed with a thumping sound output.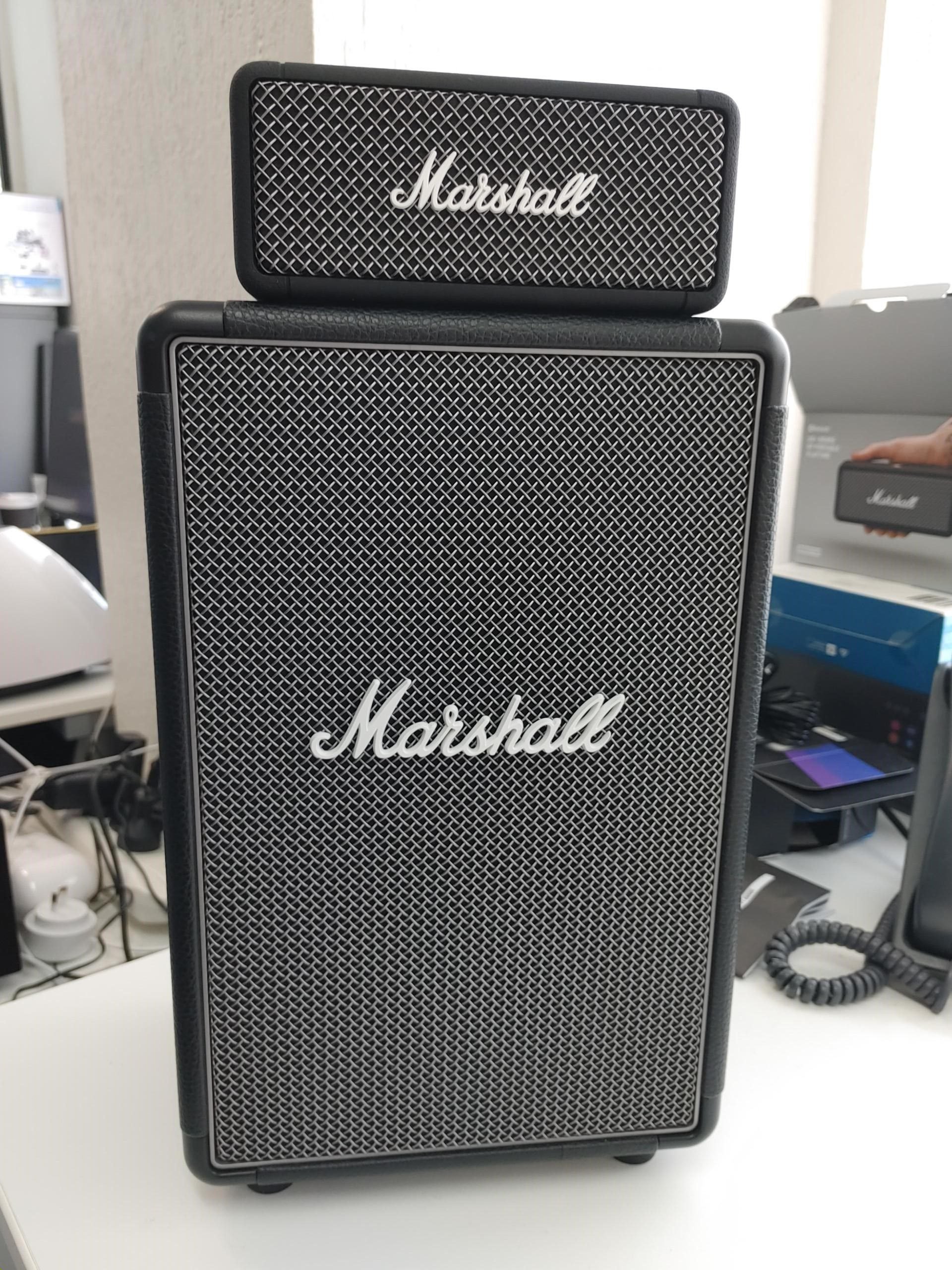 Design
First was the Emberton, a 160mmx68mm device weighing only 0.7kg. It fits into the palm of your hand and has such an aesthetically pleasing design and feel I almost forgot to test out the audio!
The brick shaped Emberton has a metallic mesh grille covering its speakers which makes it sturdy, stylish and safe to carry around.
Its tiny, brick-esque shape makes it super portable, too.
The top panel controls are simple with a Bluetooth button, multi-directional control knob and a battery indicator. I love the control knob, which is a nifty little button, plus having a clear indication of battery is a major plus in my books.
The only downside is I think Marshall lost an opportunity to make the knob a volume dial too, which would complement its classic look (it resembles a mini guitar amp).
It's also got a USB-C port on the side for charging – and if you have a USB-C to USB-C charger then you can use your smartphone to charge the Emberton on the go. Sadly, it doesn't have a USB port to provide reverse charge to your phone.
Sound
It might be small but the Emberton's sound is mighty. It's packed with two 10 W Class D amplifiers, two 2'' 10 W full range divers and two passive radiators, giving it a unique 360-degree sound experience.
At full volume, the Emberton packs a punch and has incredible audio that would rival speakers double its size.
With bass-heavy songs at max volume, there is a slight weakness to the audio but it's not unusual given the compact nature of the Emberton. You don't have access to equalisers for the Emberton, so you can't play around with the treble/bass.
If outside, the audio carries evenly in loud environments, so it is perfect for at the beach or a picnic.
The only thing missing would be a bass booster, which appears on a lot of similar devices such as the BlueAnt X3.
Features
I was surprised to find there is no mic in the Emberton to support phone calls. This also means no voice assistant, which we've all come to enjoy in portable speakers. For $249.99, I would usually expect some premium features like this.
A big plus however is the battery life, with 20+ hours on a full charge. It seems to charge quite quickly, with 20 minutes of juice giving it 5 hours of playtime.
An IPX7 water-resistance rating also means the Emberton can withstand some splashes at the beach or pool area without it being damaged.
With just a USB-C port, this speaker also lacks an AUX input and USB port which would be handy for charging your phone.
The Emberton supports Bluetooth 5 and I had no trouble connecting the speaker to my phone.
I was also pleasantly surprised by the range, which means it'll be a good little boombox for use in a large area.
Verdict: 8/10
PROS
Fast charging
Stylish design
Portability
Good sound
CONS
No mic
No USB port
No AUX input
TUFTON
The Emberton's older brother is the more expensive, much bigger Tufton – an amp-shaped portable speaker with a nifty strap and powerful audio output.
DESIGN
Like all Marshall's portable Bluetooth devices, the Tufton has a chic metallic mesh grille covering its speakers and the design makes it resemble a large guitar amp.
It's on the larger side weighing in at just under 5kg and measuring 14 x 9 x 6.5 inches (HxWxD). But it does come with a handy strap (which has some nice red velvet material on the underside) to facilitate easy carrying. It is marketed as portable, after all.
Surprisingly, the control panel doesn't have a play/pause or skip button. Instead, it's just a Bluetooth button, volume, treble and bass knobs plus the battery indicator.
You can turn off the Tufton just by dialling the volume back to zero and vice versa for turning it on.
On the back is the charging port and a 3.5mm audio input.
It also has little feet on the bottom so it sits easily on the ground or a table and so you don't scrape the faux-leather covering while lugging the speaker across the room.
SOUND
At a pricey $649.99, you'd expect this speaker has world-class sound.
It really does – I couldn't fault the incredible, rich audio which held up impeccably with thumping, bass-heavy songs.
The stereo speaker is equipped with: one 40 W Class D amplifier for the woofer, two 15 W Class D amplifiers for the full range drivers and one 10 W Class D amplifier for the tweeters.
At just halfway volume, the Tufton fills the room completely. At max volume, it blows you away.
It's even got adjustable bass and treble knobs if you're really into playing with the sound output. Sadly, the Marshall Bluetooth app doesn't support the Tufton so you can't configure it any more than that.
Tufton's 3-way design and the rear-facing driver produce a clear and articulate sound across all frequencies. This configuration will immerse you in your music, indoors or out.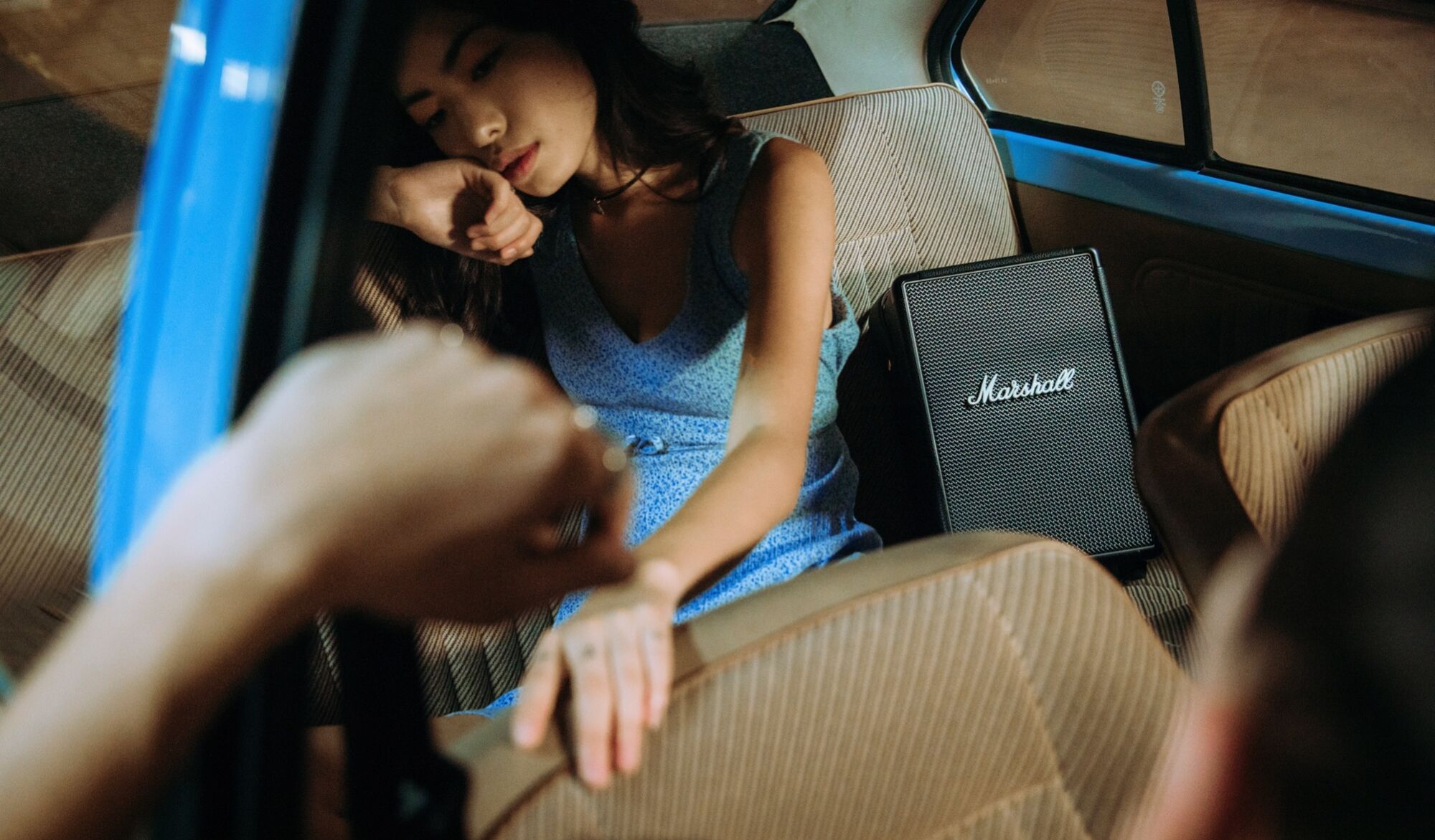 Features
The Tufton doesn't support USB charging – despite a lot of speakers at this size having this capability.
A nice plus however is duo mode – but its only supported between two Tufton speakers. You can't pair an Emberton and Tufton together in duo mode.
As with the Emberton, the Tufton has impressive battery life at 20+ hours playback on a full charge. A quick 20-minute boost of charge will also give the Emberton 4.5 hours of battery.
It's only rated IPX2, meaning a few droplets of water won't cause any damage but it's not ideal for poolside parties.
Verdict:
7/10
PROS
Quality sound
Treble/bass controls
Audio input
Carry strap
Fast battery
CONS
Bulky
Low IP rating
No mic