New Oppo Find X Is Notch-less With A Pop-Up Camera
Chinese smartphone company Oppo has unveiled its new Find X has a hidden front-facing camera removing the need for a notch.
This is the company's first Find device in four years.
It is powered by Snapdragon 845 with ColorOS 5.1 based on Android 8.1. The Find X has Google Assistant built-in and the smart low-power-consumption MIC with DSP module.
Oppo has a history of copying Apple with its designs which can be seen straight away with the name Find X and iPhone X however, it does not have a notch. This time around it seems Oppo is getting its inspiration from the Samsung Galaxy S9 with its home screen layout looking very similar and the new Oppo device also has an infinity display.
The Find X has a sliding structure completely disguising the cameras within the body of the phone. It has a 25-megapixel front camera and 16MP+20MP dual rear cameras. Additionally a 3D structured light module is included, which Oppo says can project 15,000 dots to build a precise and complete 3D model of a user's face.
It has 3D Smart Selfie Capture where its AI technology analyses facial characteristics such as face shapes and features, providing suggestions to make faces look more natural and realistic.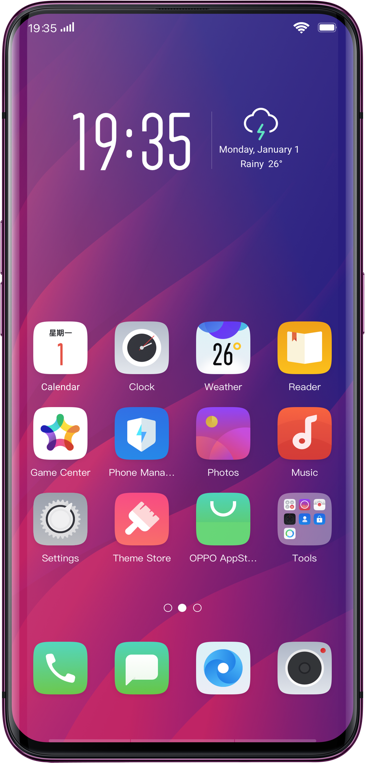 The Find X has AI Scene Recognition, which intelligently identifies scenes and objects while optimising the image. Oppo says it supports over 20 scenarios of photography and over 800 scenario combinations including snow, food and pets.
Similar to the iPhone X, the Find X has a built in facial recognition technology.
Oppo is partnering with Alibaba Pay to accept payments through facial recognition rather than confirming via a fingerprint. Oppo claims the Find X is the first Android phone to support payment through facial recognition.
Michael Tran, Executive Director at Oppo says, "We're excited to be announcing our latest device in the OPPO Find Series and we look forward to bringing it to the Australian market. The device will be sure to challenge what Aussie consumers think is possible with a smartphone.
"Oppo's relentless efforts in creating smartphones that push the boundaries led to the creation of the Find Series. The Find X continues this trend and has delivered new innovations that will resonate with Aussie consumers and challenge the status quo in the Australian smartphone market."
It comes in red and blue with a shiny sleek back.
Pricing in the US for the device is $1,115 with Australian pricing and availability still to be confirmed.
Oppo has signed a three-year exclusive deal with Automobili Lamborghini creating a Find X Automobili Lamborghini edition which is designed to embody the look of a Lamborghini sports car.
Learn more about the Find X here.