Foxtel Platform Taken To New Level, Entry Now $58 A Month + Free Netflix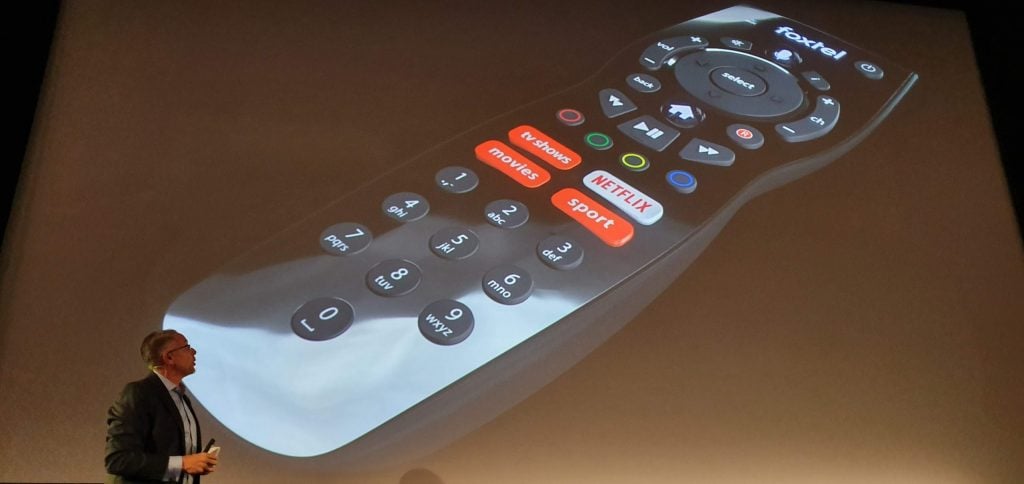 Foxtel has announced a massive new content package that will see existing customers get a brand new interface, access to thousands of new movies and TV Shows, documentaries as well as Netflix on a brand new remote.
New adopters of the Foxtel platform that has undergone a major facelift will now be able to access the platform for $58 a month, they will also get Netflix free for six months.
Patrick Delany the CEO of Foxtel told a packed audience of celebrities and media industry executives that the combination of new drama on demand content, movies and "Australia's best sports network" was an "unequalled content offering for Australian's".
In an interview with ChannelNews Delany said "Our first priority is to deliver value for our existing customers. This is the biggest upgrade since Foxtel first went live". He said.
Showing a picture of himself launching the new iQ2 box in 2005 he said that the remote at the time had a button for on Demand "But at the time there was no Demand content" he said.
"Today there is four buttons on the remote for TV Shows, Movies Netflix and Sport, plus a vast array of content he said.
Also coming is SBS On Demand services.
Delany has also not ruled out adding the Disney content claiming that Foxtel was in discussions with the US content powerhouse who last week announced that 'End Game' the latest Avengers movie was now the highest-grossing film of all time.
Disney said the film had earned US$2.79 billion at the global box office, topping "Avatar's" record of $2.7897 billion. "Endgame" has been in theatres for just 87 days.
Observers believe that the adding of Netflix serves a purpose for both Foxtel and Netflix and if the adding of Netflix access to the Foxtel platform is anything to go by Disney would benefit from a direct relationship with Foxtel and the 2.8M paying customers.
"Both Netflix and Foxtel have to manage churn and this deal adds value and a significantly easy way to access Netflix content for both Netflix and Foxtel customers" he said.
"Right now, we are working on preserving the subscribers we have already. Yes, there is churn but we have millions of consumers who are paying over $100 a month and we intend to offer these customers a massive new and expanded service and above all value for their loyalty and current investment".
"They now have access to a vast library of movies and boxed TV shows as well as a new interface that allows them to get a better viewing and management experience" he added.
He said that Foxtel's churn was primarily at the "bottom end" and included customers who had been given free access to some Foxtel content and that included Telstra customers who were given free access via a bundled broadband deal.
A big success story for the News Corporation and Telstra owned business has been the introduction of Kayo which Delany said resulted in the platform "dropping profits to the bottom line".
"We already own the sports content that we are delivering with Kayo and are witnessing good growth while also attracting a younger 35 year old male who is interested in sport" Delany said.
According to Roy Morgan research, around 2 million Australians will receive instant access to Netflix, based on Foxtel subscriptions.
And, Roy Morgan CEO Michele Levine added, the move holds "significant opportunities for both services".
She added that the move is a "solid defensive measure to help prevent existing Foxtel subscribers ditching the service to move to cheaper alternatives" and also gives extra incentive for new users to sign up.
Cheap streaming video services, led by Netflix in recent years, has been the biggest challenge to Foxtel, and there are more competitors on the way – Australian-owned Stan, Amazon Prime Video and YouTube Premium are growing quickly, Levine explained.
Disney's much-anticipated streaming platform, Disney+ is also in the works.
As Levine said, if Foxtel can position itself as the "gateway" to content, the more it can tap into user data to tailor services and advertising.