COMMENT: Will Big W Be Sold Or Is Unsalable?
Will Big W be sold, or more so can it be sold? in their latest results losses eased from $10 million to $8 million, sales rose 2.7 per cent to $2.1 billion, while same store sales rose 3.8 per cent during the half and by 5 per cent in the December quarter when a lot of other retailers reported a downturn store traffic.
Woolworths still expects losses this year to be below 2018 losses of $110 million, subject to market conditions.
But the big question is whether there is light at the end of a very dark tunnel for Woolworths management or whether the Big W business will go the say way as their petrol business which was recently sold for $1.72 billion.
A contributing factor to the recent increase in store is that arch rival K Mart is also suffering with consumers choosing Big W over the Wesfarmers owned store.
While a lot of work still needs to be done at Big W their offerings across appliances, consumer electronics and accessories have improved significantly during the past year and I suspect that these categories have improved above what was targeted as Big W moves to range more known brands over household brands.
Recently the Company started ranging Sony 4K TV's that were significantly over priced, but I suspect this was a deliberate strategy that will allow them to legally come back shortly with a heavily discounted price on this TV.
For decades Big W was the retailer to get consumer electronics from Xbox games, DVD's and movies
.
They were seen as a discounter of Apple products as well as known for selling 'value' appliances.
On the floor a lot of work has been done on store layout but at two stores I visited recently a lot of works still needs to be done educating staff on individual products being ranged instore.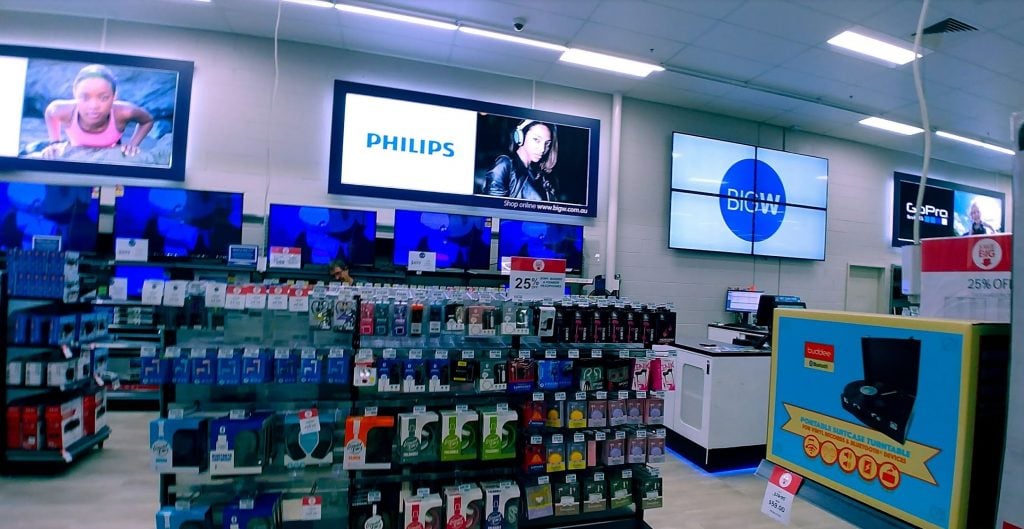 Woolworths chief executive Brad Banducci claims that he is unhappy with the pace of the turnaround and was currently reviewing the store and distribution centre network.
"With BIG W sales having stabilised and customer metrics improving, we are now focused on converting sales into profit and are currently reviewing the BIG W store and DC network," Mr Banducci said.
"We will provide an update on the outcomes of the review in the next four to six weeks."
The problem Woolworths faces is whether they do a Dick Smith and off load the business for a low price to a venture capital Company like Anchorage Capital who later found themselves in a right pickle when Dick Smith a former Woolworths owned Company was placed into administration with losses of over $500M.
The issue is whether any venture capital is prepared to take the risk on an Australian department store at the moment as Amazon cranks up their business in Australia. I doubt it and if there is anyone out there who is prepared to take a bet the risk of failure is high.
Last year Wesfarmers had a big look at putting together Kmart, Target and Officeworks together to create a major retail business that could sold via an initial public offering on the stock exchange
The idea of demerging these operations or holding an IPO for what would have been a $6 billion company with annual earnings of about $600m and a $4.5bn equity value was worked on by several investment bankers.
given Kmart's performance may have peaked ahead of the arrival of Amazon several organisations who were approached with the idea of taking on these 3 retailers decided to walk away because of the risks that Bi W are currently trying to manage.
<