Who Actually Controls Harvey Norman, Gerry Harvey, Or Mystery Lawyer Chris Brown?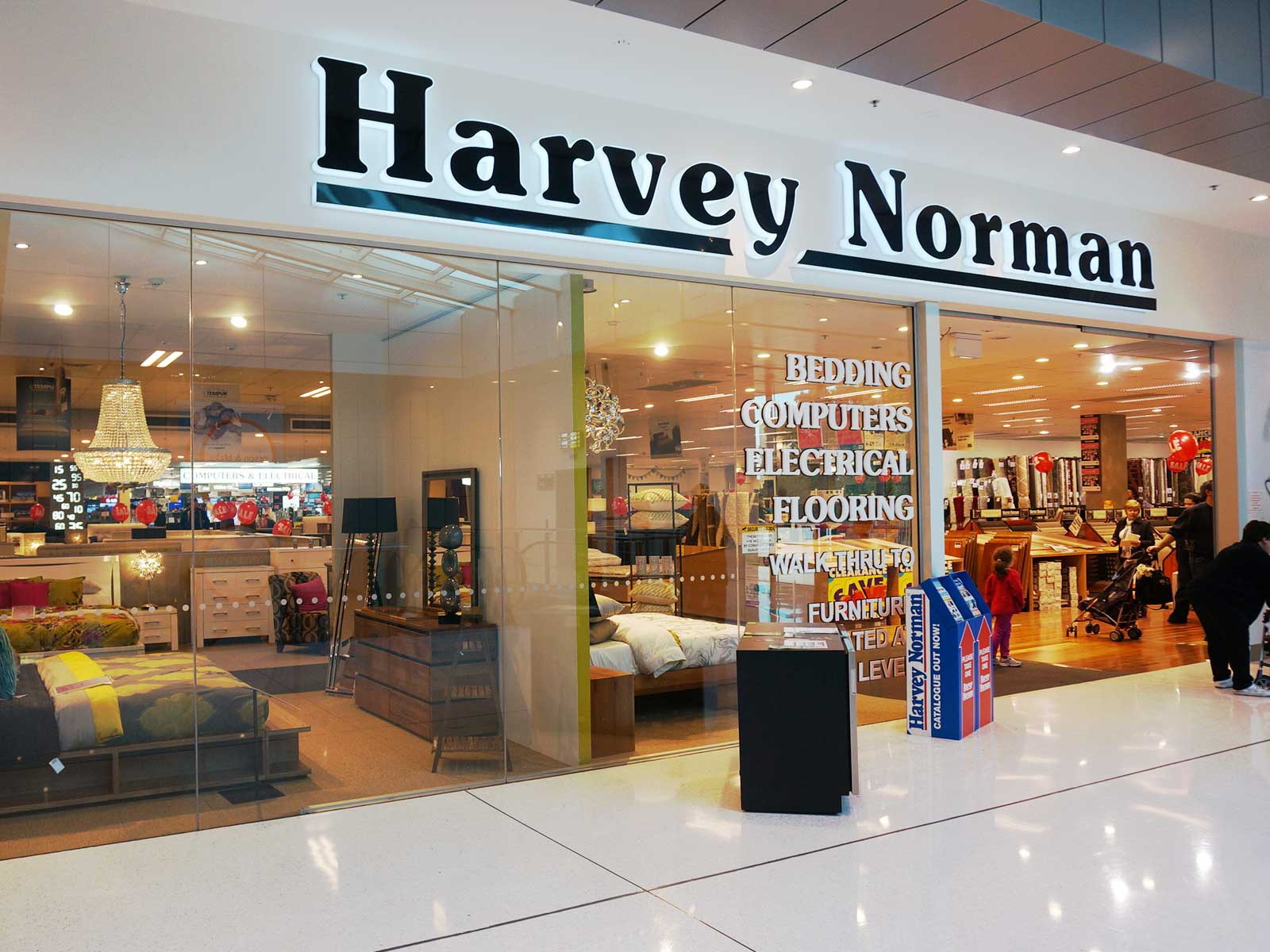 Harvey Norman is facing the real possibility that the Australian Securities and Investments Commission, who are currently running an extensive investigation into the mass retailer, could order directors to consolidate the accounts of the mass retailer on the basis that it is Gerry Harvey's Company who has control of their franchisee network and not the individual franchisees.
It's also been revealed that a mystery Chris Brown lawyer actually, controls the destiny of the Company. Brown is the senior partner of Sydney based Brown Wright Stein Lawyers.
The estate of Ian Norman, who co-founded Harvey Norman with Gerry Harvey in 1987, has now fallen under the management of Brown, since Norman's death three years ago.
That mystery over the trusts and financials surrounding this shareholding in the mass retailer has remained even after two approaches by ASIC seeking more public disclosure from Brown, the executor claims the AFR.
Apart from probing the ownership of shares in the mass retailer ASIC is also investigating how on average more than 110 failed Harvey Norman franchise companies have been transferred each year – about one in five of Harvey Norman's total franchises – to an 84-year-old former franchisee, Joe Deen.
If ASIC forces Harvey Norman to consolidate its accounts, the Company will be forced to completely rewrite the group's balance sheet and profitability a move that could see the value of the Company plunge.
Several observers have said that it was Gerry Harvey's mouth that bought the mass retailer under the ASIC microscope, when at his last Annual General Meeting, he told shareholders to "piss off" when they started to ask questions about his franchisee network.
ASIC is now probing the level of disclosure in the accounts and the group's relationship with its franchisees and the trusts of Gerry Harvey's former partner Ian Norman now deceased.
The Companies last annual report contained information that Harvey Norman was warehousing loans totalling $943 million to its franchisees and had written off $566 million of those loans in what Harvey Norman management refer to as "tactical support".
It appears that the big retailer has been doing this for several years as franchisee after franchisee fell over resulting in Harvey Norman management calling in a fixer to clean up the financial mess with the franchisee walking away free of any liability.
Gerry Harvey has blamed "hearsay and rumours" for a plunge in the value of Harvey Norman.
At the time, his view of the ASIC investigation was that it was "just about paper work". Harvey Norman is now so concerned that he has bought in a team of high priced advisers including top end of town corporate lawyer Leon Zwier and Jeremy Leibler, of Melbourne based Arnold Bloch Lieber.
Zwier has been dubbed the "ASIC Whisperer" for his success in handling awkward regulatory hiccups for his clients, from Steve Vizard to HIH's Ray Williams, to Peter Scanlon and Elders IXL the AFR Claims.
Zwier is fresh from negotiating a $36.5 million settlement with shareholders for Slater and Gordon, while fending off ASIC questions about the Ten administrator.
Questions are also being asked of Harvey Norman management, after the Financial Review revealed that Chris Brown, who is the senior partner of Brown Wright Stein Lawyers, has become the secret kingmaker for the Harvey Norman group, wielding almost absolute control over a 16.5 per cent share block that cements Gerry Harvey's power and will determine who will succeed him as head of the giant retailing business.
It also appears that the unlock key to the Harvey Norman empire is wrapped around the will of Gerry Harvey's former partner Ian Norman who died three years ago.
What ASIC investigators are probing is how Brown controls Ian Normans share portfolio and the estate's 183.2 million shares in Harvey Norman – $747 million at current prices – until 2094.
Ian Norman was Gerry Harvey's partner in the Norman Ross group, and a silent partner in Harvey Norman since it was listed in 1987.
The AFR said that Brown is the reason Harvey can abuse inquisitive shareholders and tell his critics to "piss off".
The revelations about the franchisee network, his actions at the AGM and the ASIC investigation coupled with Amazons declaration that they are set to compete head on against the mass retailer has seen Harvey Norman share fall over 30% this year.
Some of the Companies problems started back in 2014, buffeted by criticism after a short seller's report on the Company. Harvey Norman responded by announcing a share issue, which helped fund higher dividends.
But even the share issue didn't produce enough funds, and by June 2015, Harvey Norman had to borrow an extra $38 million from Norman and Harvey.
The AFR Said this was terrible timing because by now Brown, as executor, was drawing back funds to pay out bequests in Norman's will. Rather than lending more money, Brown was demanding that Harvey Norman repay almost all the $26 million that Dimbulu already had on loan to the group.
So, it fell to Gerry Harvey to lend the money to pay out Brown's Dimbulu and then to lend the extra cash that Harvey Norman needed.
It cost Harvey $60 million. Adding in the $40 million Harvey had to pay for the new share issue, the whole exercise cost him $100 million.
Since 2014, the Harvey Norman annual report has stated that Brown "has a beneficial interest" in shares held by two of his own companies "and 183,215,555 shares held by Dimbulu Pty Ltd".
Despite this, Brown insists he has no beneficial interest in the estate, though he can charge fees.
In the will Norman directs that Brown, "my trusted adviser", as appointor was entitled "to claim commission for his pains and trouble".
It's not known whether that pain is putting up with the actions of Gerry Harvey said one observer.
The AFR Said that Harvey, who holds 30.7 per cent of Harvey Norman with his wife Katie Page's 1.5 per cent, knows his position is unassailable because with the shares Brown controls Harvey can count on the support of 48.4 per cent of the register.
According to sources ASIC has zeroed in on the Ian Norman shareholding.
They have twice asked for information including more public disclosure of the relationship between Harvey Norman, Gerry Harvey and the estate of Norman which is now under the control of Brown.
And it's not just Gerry Harvey who has problems keeping up with the paperwork.
The estate of Ian Norman, who co-founded Harvey Norman with Gerry Harvey in 1987, has been shrouded in mystery since Norman's death three years ago.
That mystery has remained even after two approaches by ASIC seeking more public disclosure from Brown, the executor.
Brown, referred questions from the AFR to Leon Zwier and Jeremy Leibler, of Arnold Bloch Leibler a person who is often bought in when ASIC is close to deciding on their investigation.
Questions are now being raised that if Zwier was handling media queries about Chris Brown's minor contretemps with the regulator, was he also handling Harvey Norman's much-larger ASIC problem?
It's not unusual for ASIC to review a company's accounts. What's unusual is that, as in the case of Slater and Gordon, ASIC directed the company to tell the market about it, because it was materially significant.
ASIC is believed to be close to finalising its review, which is just the time when troubled corporates decide they'd better call Leon, the AFR said.
Brown who has been on the Harvey Norman board since 1987, chairs the remuneration and nomination committees is a member of the audit and IT governance committees and a director of the Australia Post owned StarTrack.
Harvey Norman's legal issues have meant fees charged by Brown Wright Stein Lawyers jumped from $580,000 in 2010, to $2.46 million in 2016.
Wide powers
Brown prepared Norman's last will in June 2013. Under the terms of the will, Brown has a lifelong power over the trusts that hold Norman's estate, notably the Harvey Norman shares held by Dimbulu Pty Ltd.
The bulk of the estate is in three trusts which are under Brown's control until the vesting date, 80 years after Norman's death, when the trust assets are distributed to his family, though Brown can decide to bring the date forward.
Brown is the appointor to the trusts, which gives him the sole power to appoint or dismiss trustees. He is also the man who controls the future of Harvey Norman.
Since 2014, the Harvey Norman annual report has stated that Brown "has a beneficial interest" in shares held by two of his own companies "and 183,215,555 shares held by Dimbulu Pty Ltd".
Despite this, Brown insists he has no beneficial interest in the estate, though he can charge fees.
None of this was clear when Norman died in May 2014. Brown had become a director of Dimbulu a week before, and filed a change of director's notice with Harvey Norman revealing he was now the sole director of Dimbulu.
After probate, Brown was left in permanent control of the estate as appointor and trustee, but no substantial shareholding notice was filed. Just who controlled the shares remained unclear.
It was not until last month that, after approaches from ASIC, Brown filed a substantial shareholder notice, stating that he had voting rights over the entire stake "as executor of the estate".
ASIC also ordered Brown to file missing annual accounts for Dimbulu, which, as a large private company, is required to file financial reports with ASIC.
After 2009, Dimbulu had abruptly stopped filing financial statements. It notched up $210 million in profits in the next seven years but none of it was reported until ASIC ordered Brown to produce the missing accounts this year.
The AFR Said that Browns' position is that he had an honest but mistaken belief that ASIC had granted Dimbulu an exemption from having to file accounts, though there is no ASIC public filing that would suggest this was ever the case.
The Dimbulu accounts show the company reported $204 million in profits after tax from 2010 to 2016, mainly from Harvey Norman dividends.
During that period $24 million of dividends on Harvey Norman shares held in Dimbulu's name are not accounted for, credited instead to the Dimbulu 1995 Trust. It's not clear who the beneficiaries of the trust are. There's also a $750,000 loan to Harvey Norman director Ken Gunderson Briggs, and a $1 million advance to something called Balltearer.