Vertical Vinyl: Floating Record Player Launches In Oz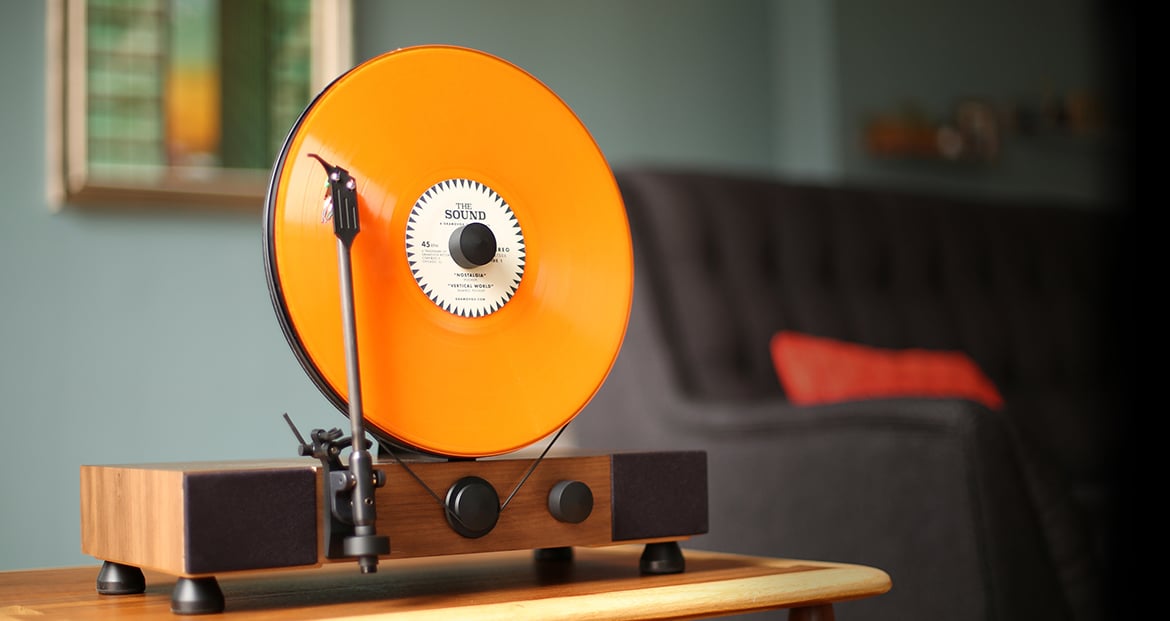 Gramovox's Floating Record player, sporting a contemporary design that sees vinyl played vertically, has landed in the Australian market.
Available from online vinyl store The Sound of Vinyl (the only authorised stockist in Australia), the Floating Record player delivers a modern take on the record player, combining "the beauty and nostalgia of yesterday's turntable with modern sound technology and cool, contemporary design".
The Floating Record player is decked out with dynamic full-range stereo speakers, while built-in RCA line-out ports allow users to bypass the speakers and use their own existing audio set-up. Headphones can also be used via a built-in 3.5 mm stereo jack.
It caters for both 33 1/3 and 45 rpm by moving the silicon belt over the inner or outer groove of the middle gear, with record clamps for both types of records provided.
Each player is hand-assembled in Chicago, while almost no set-up is required, with it taken out of the box and ready to play.
"We treat vinyl as the art form that it is," Gramovox co-founder and CEO Pavan Bapu commented. "Watching the vinyl as it spins, which always looks so different from record to record, is all part of the experience.
"We wanted to create a visceral vinyl experience that showcased the record as both art and a medium to produce fantastic sound. And we're proud that we spared no resources in ensuring the engineering was perfect, so it plays flawlessly in this vertical format.
"We want our products to evoke nostalgia, to bloom in the design space, and allow you to rediscover the way you experience your music. The result is a high-performance turntable that plays your records vertically – producing the illusion that it's floating."
Features:
Easy to use, all-in-one system

Walnut or maple veneer wood base

Carbon fibre tone-arm

Hi-fi phono pre-amp

International voltage compatible

Built-in 2″ full-range stereo speakers – Tymphany 2″ neodymium speakers driven by a 15 W per channel digital amplifier

Belt-drive system (catering for both 33 1/3 or 45 rpm)

RCA line-out

Vibration dampening feet

Pre-installed AT95E cartridge
Further information can be found here.