Samsung & LG Under Pressure In TV Market, QD OLED Key To Future Sales
The TV market that has seen rampant discounting this year is set to set to come under pressure from Chinese brands with leaders Samsung and LG restructuring their global TV operations to remain competitive according to new research which has revealed that most brands are "losing money".
The future for Samsung large screen TV's will be QD-OLED.
Last month the Company said that they are set to invest $16 Billion in new production plants manufacturing QD OLED panels.
According to DigiTimes Research sourced from a Chinese TV manufacturer, South Korean TV Companies are shutting down production lines and investing heavily in new production capacity.
DTR suggests that Korean manufacturers of which the bulk is Samsung and LG will see their share of the global large-size LCD panel market continue to decline due to pressure from Chinese manufacturers.
They claim that the South Korean manufacturers will see their share drop to less than 20% and about 10% of the global large-size LCD panel market by 2024.
It is expected that South Korean manufacturers they will shut down several 7.5/8.5G LCD lines between 2019 through to 2021, which will help ease the overcapacity issues.
Both Samsung and LG are set to expand their production and investment into QD OLED and white OLED (WOLED) for TVs going forward with some of these TV's set to be revealed at CES 2020.
Capacity of Chinese panel makers is set to climb to between 50% and 60%, respectively.
DTR said that large-size TV's will drive the market between 2020 with large size TV's representing more than 75% of overall large-size panel shipments
in 2020.
LG who have dominated the OLED TV market with most brands currently selling OLED based TV's sourcing their panels from LG. is set to come under renewed pressure from Chinese manufacturers
DTR claims that Chinese manufacturers who have invested in new OLED manufacturing are "keen on the OLED TV market" they claim that OLED technology will play an influential role in the TV market going forward.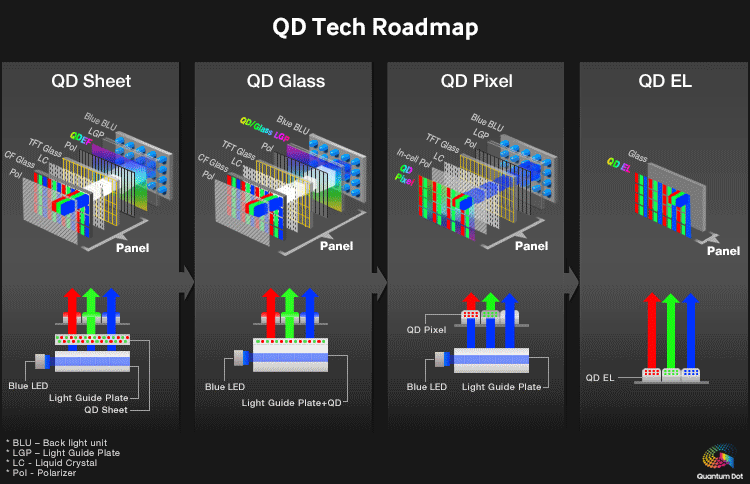 They forecast that LG Display will ship more than 11 million OLED TV panels 2023 to 2024.
They also claim that Samsung will begin QD OLED TV panel volume production and shipment in 2021.
The Taiwanese research Company said that the Olympic Games 2020 in Tokyo, Japan is expected to fuel shipment growth of large-size LCD TV panels in 2020.
"However, as increasing OLED TV panel capacity and sales erode the LCD TV panel market, global LCD TV shipments will go on a downward trend after 2021" said DTR in their report.
Global large-size LCD panel capacity will only grow at a CAGR of 3.2% 2019 through 2024, indicating their profit margins are shrinking and firms are not as keen as before to invest into and expand production due to the margin erosion that is currently rampant in Australia.
Large-size LCD panel capacity in South Korea will significantly drop mainly because a slew of 8.5/8.6/10.5G new production lines in China.
As a result, South Korean manufacturers have no choice but to undergo transformation.
SDC's parent company Samsung Electronics sold more QD LCD TVs than LG's OLED TVs in first-half 2019. It therefore holds high hopes for QD OLED TVs with even better display quality going forward claims DTR.
Next year Samsung will shut down some of its 8.5G LCD lines in preparation for the transition to QD OLED TV panel production which is set to be a dominant feature at IFA 2020 and CES 2021.
QD OLED TVs will be able to compete against WOLED TVs in the high-end TV market claims DTR.
The current restructuring that is currently happening at LG and Samsung will "position them to cope with the impact from China's 10.5G lines" currently going into volume production.
Recently LG Display built an 8.5G OLED TV panel line in Guangzhou, China, which will be running at full capacity in 2020.
Meanwhile, it is cutting down production of its 7.5G and 8.5G LCD lines in South Korea and offering early retirement to employees.
Brands and retailers wanting access to DigiTimes Research can go here.