REVIEW: Polk Smart Assist, Intuitive Style Meets Stellar Sound
Smart speakers are a dime a dozen these days with multiple choices on the market for audiophiles and gadget lovers to choose from. Polk is making a name for themselves with their high-quality soundbars and speakers and their Polk Smart Assist Speaker ($299) is no different.

Integrated with Google Assistant and Chromecast, the Bluetooth Smart Assist speaker offers good quality audio and connectivity.
Included in its box are the speaker itself, the power cord, a scant instruction booklet, and a warranty.
Design
The Polk doesn't move away from the look and feel of most smart speakers on the market, but it does contain some identifiable differences that set it apart from the crowd.
The Polk Smart Speaker features zero frills and is neat in size measuring just 7.5-inches in height, 4.7-inches in width and is relatively light weighing only 1.3kg.
The top is slanted slightly making it easy to access control buttons. Such a simple addition, but very user-friendly.

On the outside, the speaker appears to be designed to resemble other Google Home speakers, albeit a little taller and wider than the Google Home with fabric mesh covering the majority of the body of the speaker and a plastic top.
The slanted top hosts four buttons: Talk button, Play/Pause, Volume Down, and Volume Up. Of course, if you have the mic on, you can control all these functions with your voice alone.
There is a mic mute button at the back of the speaker towards the base if you want to be able to chat without fear of Google hearing.
When a voice command is given or when the voice button is pressed, four LEDs light up and flash when the Google Assistant is listening and searching for an answer. While not as exciting as the Google Home's rainbow wheel, it's a more subtle approach.

These lights also indicate the volume level which can be changed either manually by pressing buttons or just asking Google Assistant to turn it down or up.   

The Google Assistant will alert you that the mic is off, and the LEDs will glow red.  

Overall, the Polk Assist is a discrete, minimalist compact speaker that will easily fit into whatever home environment you experience.   
Performance
The Polk Smart Assist arrives ready to plug in and start working.
In order to get the full experience, you will need to download the Google Home app.
The process takes literal minutes and you'll be guided to select which music providers you'd like to default — if you have a preference — give it an appropriate name (i.e. Living Room Speaker) or something more amusing (e.g. Sassy Sheila). And get talking.
The microphone, in general, was great at picking up voices from across the room, however, it struggled at times if music was already being played. However, those missed commands were few and far between.
The audio is crisp and clear at higher volume levels and while perhaps not on the same level as higher priced items in the market, it is better than its price would suggest.
The Polk Assist has a two-way system which includes a 3.5-inch mid/bass driver in addition to a one-inch tweeter.
It offers warm mids and highs and hearty bass response.
The audio offers good enough clarity, regardless of streaming service, offering warm mids and highs.  
However, this is a small speaker, therefore you should not expect deep resounding bass, the audio is narrow and self-contained. The bass is there, but this isn't the type of bass you'll feel in your chest.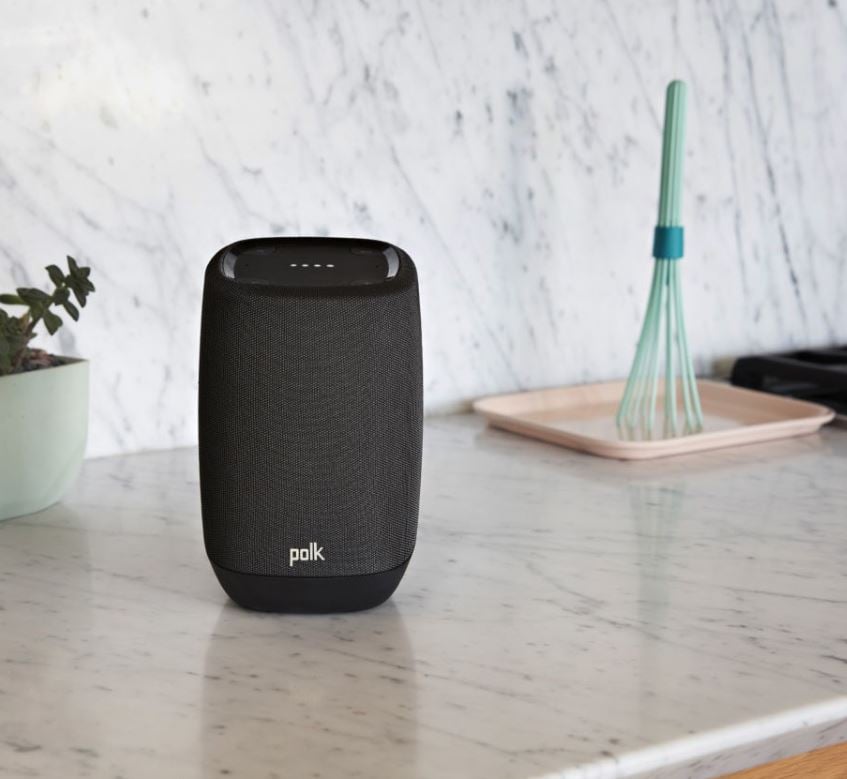 For a more powerful audio experience, you wouldn't be looking at a smart speaker like this Smart Assist.
The Smart Assist not only is a solid smart speaker, but it also has Chromecast built-in, for wireless news, music, and podcasts.
You can cast from compatible apps like Pandora, TuneIn, Google Play Music, and Spotify Premium. I primarily use ACast and it worked seamlessly with the Polk Assist.  

It uses version 4.2 Bluetooth connectivity plus Wi-Fi supporting both 2.4GHz and 5GHz networks.

Although integrated with Google Assistant, like many third party smart assistant speakers on the market, the Polk Smart Assist does not include all of the same functionality of a Google Home. Most notably, it cannot make phone calls or send messages.
It's not a major setback, but if that is something you would want in your smart speaker, you might prefer to opt for the Google Home or Home Mini.
However, it can control devices synced with the Google Home app and can be added to speaker groups to create a multi-room audio setup.

Value
At $299, the Polk Assist is a solid smart speaker similar in price and specs to the LG WK7 ThinQ Smart Speaker with Google Assistant ($299).
However, what sets it apart from its competition is its neat and modest design that is innovative, eye-catching, and user-friendly.
It serves as a good upgrade over other Google Integrated devices, but, if you're looking for a premium Hi-Fi experience, you might consider a Google Home Max.  

However, at the end of the day what it lacks in smart functionality it makes up for in excellent audio playback.
Design: 9/10
Performance: 8.5/10
Value: 8.5/10
Overall: 8.7/10