REVIEW: Plantronics BackBeat FIT 305 – Affordable & No Fuss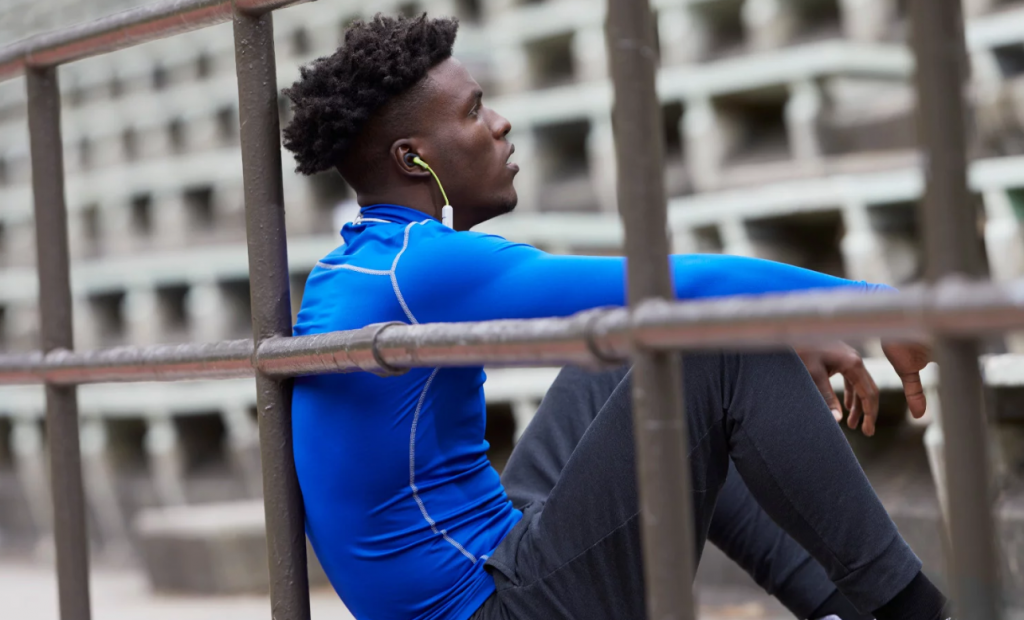 Audio equipment manufacturer, Plantronics, has further expanded its fitness arsenal with the 'BackBeat FIT 305' – a pair of 'sweat-proof' wireless headphones for just A$129.95.
Released in October last year, the '305' expands Plantronics award-winning BackBeat range, and claims to be a versatile pair of sports headphones at a super affordable price.
Design:
Plantronics' BackBeat Fit 305 is locally available in four colours (black/grey, dark blue/blue, grey/lime green and grey/coral), catering to a wide range of tastes.
The headphones feature a reinforced cord, resting around your neck. It contrasts the trend of in-ear wireless earbuds (e.g. Jaybird RUN) which loses the cord altogether.
Research claims there's still a portion of consumers who prefer 'corded' wireless headphones (rather than isolated earbuds) for a totally worry-free fitness experience.
Despite the presence of a cord, the BackBeat Fit 305 is an ultra-light product, well built, with comfortable earbuds.
Plantronics claims the Fit 305 is among the world's lightest Bluetooth headphones, designed for easy transition between exercise and everyday life.
Whilst I can't confirm the validity of the 'world's lightest' claim, I can assert the 305 is a super lightweight product, even with my petite head and tiny frame.
I have a very low tolerance for heavy headphones, and despite particularly intense (or long) workout sessions, there were virtually no occasions when the headphones felt 'heavy' or bulky.
Like many other headphones, the 305 includes many different sized earbuds, catering even to my small ears. Plantronics claims this is courtesy of a patent-pending 'secure-fit' ear tip.
After customising my correct fit, I had no concerns the headphones would fall out mid exercise – and they didn't.
Yes, sometimes when running you'd feel the cord flip up/down, but that's the nature of the design. To alleviate this, I would tuck the cord into the head of my jumper.
A 2-in-1 cable clip allows users to fasten the cord to your outfit, which is a handy feature and provides peace of mind that headphones wouldn't fall onto the [dirty] floor.
My only major qualm concerning design is that the FIT 305 looks super sporty.
Plantronics states the headphones offer lifestyle versatility (e.g. perhaps from gym to office) – personally I don't totally agree, given the corded design. It's a fact further enhanced by the colour you choose – my coral version does not gel well with my 'work' attire, and virtually screams 'gym'.
For the night cyclists/joggers among us, a reflective sport-weave cable offers visibility at night, which is super handy.
Performance
Plantronics claims the BackBeat FIT 305 offers ups to six hours of usage on a single charge – a claim I'd say is largely substantiated. In an ideal world, this would be more, however, I won't complain for this price point.
For water lovers, the product is IPX5 water resistance certified. Personally, it provided reassurance the headphones were essentially sweat-proof.
For me, there were no occasions when a fairly sweaty gym session caused the buds to fall out, however, I'd caution this varies on your individual 'sweat level'.
The FIT 305 boasts 6mm drivers, and Plantronics claims the device blocks out unwanted external 'gym noise'.
Again, the patent pending 'ear tip' design claims to provide an 'immersive listening experience' despite high intensity exercise.
For the workaholics/socialites, the headphones include a wideband microphone to take calls, coupled with inline controls for navigation.
Taking calls is easy, with audio quality largely excellent – especially for this price. People could hear me well, I could hear them well, and I'll say the eartip design did offer some kind of noise isolation.
Audio quality is great, especially at this affordable price. Listening to music, YouTube videos, podcasts and taking calls – no qualms, especially in an exercise context.
Clarity, limited distortion, and notable bass, without hurting my eardrums.
Drop-outs/loss of Bluetooth connection was not something I wrestled with.
Bluetooth connection is 10 metres, which for an exercise context is more than enough. I would keep my handbag and smartphone nearby, and performance was not impaired.
The headphones' inline controls are also pretty easy to use and navigate. No qualms, but be warned it may take some getting used to. Once you get the hang of it, smooth sailing.
Summary
Plantronics BackBeat FIT 305 are reliable fitness-ready headphones which perform as they claim.
No fuss, durable versatily, which offers peace of mind for a variety of intense workouts.
Despite their claim of lifestyle versatility, personally the headphones' design renders them very sport-worthy. But that's just personal taste.
The headphones are well built with quality internal and external components – there's very little to fault, especially for less than A$150.
Plantronics' BackBeat FIT 305 are available to purchase from several Australia retailers such as JB Hi-Fi and Harvey Norman in; black/grey, dark blue/blue, grey/lime green and grey/coral.
Overall – 8.1/10
Performance 8.3/10
Design – 7.6/10
Value – 8.5/10