JB Hi-Fi Jumps Into $13 Billion Pet Industry
JB Hi-Fi whose shares hit $41.30 today has moved into the pet business which in Australia is a $13 billion dollar business.
The big retailer is looking to benefit from automatic dog bowls to cat feeders that dish up food when owners are at work or away for a weekend.
It now appears that technology has caught up with our four-legged friends with the big retailer also selling trackers for those who may have strayed too far from home.
Walk into a JB Hi-Fi store and you could be greeted by a whole new category of smart products called 'pet tech'.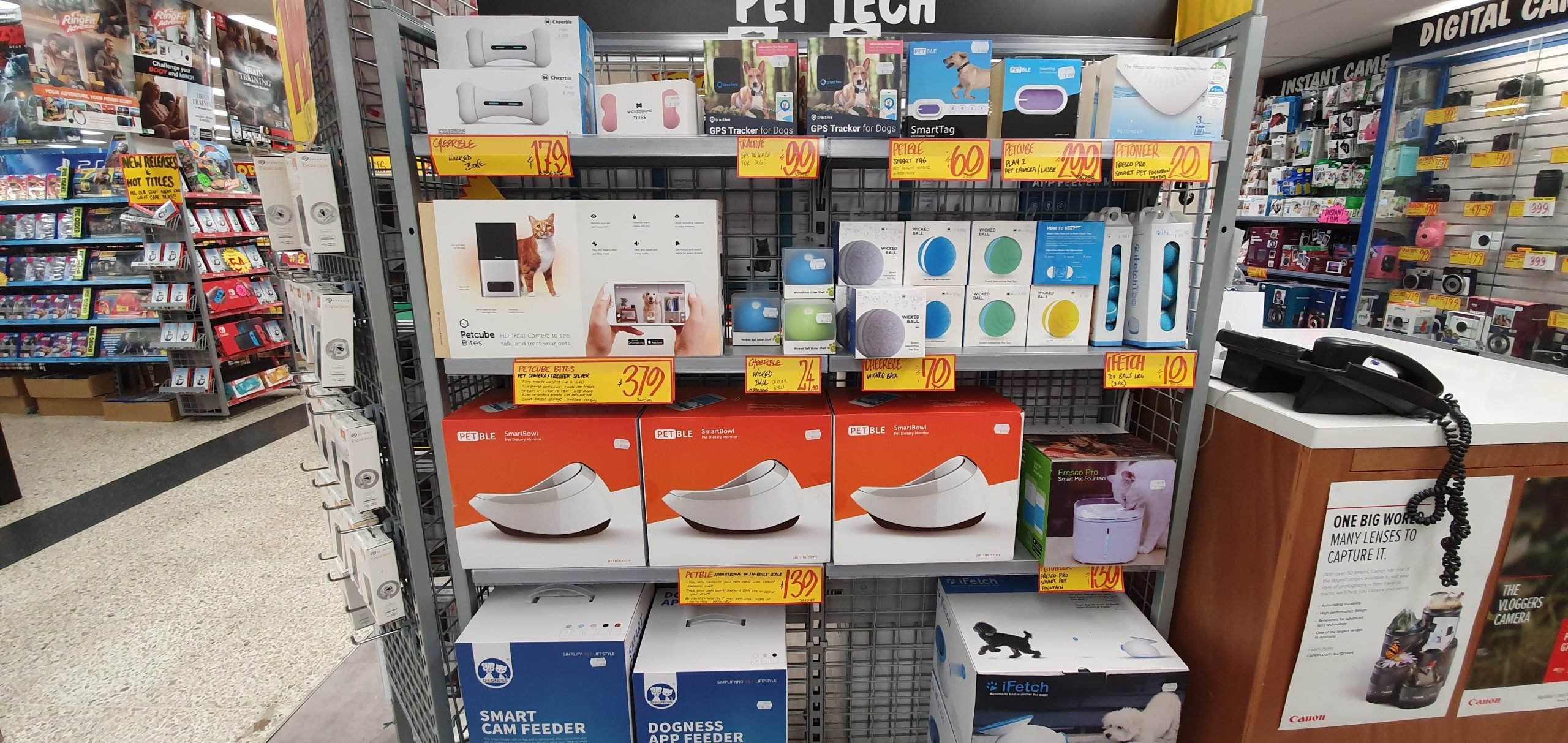 Including brands you've probably never heard of like Dogness, Petcube, IFETCH and PETTEC, the selection of pet technology ranges from play toys, smart feeders and even fitness trackers.
Harvey Norman and the Good Guys have also jumped on this pet tech train, with brands like Petoneer and Petble.
According to the Animal Medicines Australia (AMA) 2019 report, there were 5.1 million dogs and 3.8 million cats, with almost two-thirds of the country owning a pet.
The previous report discovered that Australian households spent over $12.2 billion on pet products and services in 2016, an increase of 42% since 2013.
This has since increased to $13 billion per year, with products and accessories making up 9% of that at $1.2 billion.
AMA Executive director Ben Stapley attributed this growth to services that did not exist for pets when the last survey was conducted.
'We found that people are spending their money on premium products and services'.
IBISWorld also made the same connection, seeing an average industry growth of 7.2% between 2014 and 2019.
'This trend has translated into higher expenditure per pet owned as households spend more on premium products and services' said IBIS.
What this has resulted in is a decrease in popularity for pet stores, 'with 19% of pet owners choosing retail stores such as Kmart and The Reject Shop as their primary outlet.'
There has also been a 7-9% increase in online shopping for pets.
According to AMA, $600 million of this is attributed to dog owners,
while another $250 million is being spent on cats.
Which probably explains why all three big retailers are really only selling dog-oriented tech products such as the Cheerble Wickedbone Smart Interactive Dog Toy ($179) or the Dogness Smart Camera Treater ($199).
Auto feeders such as the PETTECC Smart Feeder for Pets ($219) or the Petoneer Fresco Pro Smart Pet Fountain ($139) can be used for both your cat or dog.
Fitness trackers, just like for humans, are also an option for pets, with devices that can be attached to a dog or cats collars like the Tractive 3G GPS Pet Tracker (subscription required) or the Biotraka Aware Pet GPS & Fitness Tracker, both $99.