Huawei Caught Out, Dodgy P9 Image Marketing Comes Unstuck
Remember the row over the Nokia smartphone and the dodgy image that was actually shot on a digital SLR and not the smartphone camera?
Now Chinese smartphone maker Huawei has been caught out making false claims about their new P9 smartphone which is supposed to incorporate Leica camera technology, the P9 smartphone was launched in Australia 10 days ago.
Last week the Company sent out a marketing EDM about their new P9 and its ability to capture images in low light "We managed to catch a beautiful sunrise with Deliciously Ella. The #HuaweiP9's dual Leica cameras makes taking photos in low light conditions like this a pleasure. Reinvent smartphone photography and share your sunrise pictures with us. #OO" they gushed.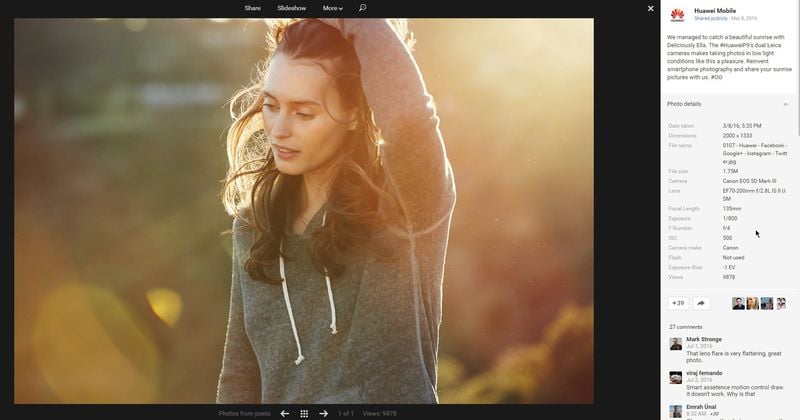 The only problem was the marketing staff at Huawei had used an image shot with a Canon EOS 5D Mark III DSLR camera to get their message about the P9 across.
All one had to do, to identify that Huawei was trying to mislead consumers, was open up the image specifications to reveal the real truth about the photograph.
When they were caught trying to fake the performance of the new P9 camera which was only revealed to selective media in Australia, the Company said "Our intentions were not to mislead, but to "inspire our community."
The specifications inside the image told the real truth.
Date taken 3/8/16, 5:35 PM
Dimensions 2000 x 1333
File name 0107 – Huawei – Facebook – Google+ – Instagram – Twitter.jpg
File size 1.75M
Camera Canon EOS 5D Mark III
Lens EF70-200mm f/2.8L IS II USM
Focal Length 135mm
Exposure 1/800
F Number f/4
ISO 500
Camera make Canon
Flash Not used
Exposure Bias -1 EV
The Canon EOS 5D Mark III DSLR camera that the Huawei syndicated picture was actually shot on is selling at JB Hi Fi for $3,449 for the body only. The lens used for the photo, is an EF70-200 f/2.8L IS II USM, in Australia this lenses cost an additional $2,559.
They went on to say "It has recently been highlighted that an image posted to our social channels was not shot on the Huawei P9. The photo, which was professionally taken while filming a Huawei P9 advert. We recognize though that we should have been clearer with the captions for this image. It was never our intention to mislead. We apologise for this and we have removed the image."-Huawei
This is not the first that a smartphone Company has been caught out because of the EXIF Data. Nokia 's PureView ads were also faked three years ago. They were caught lying when the Lumia 920 Smartphone was launched.
This is the same Chinese Company that both the US and Australian Governments refused to deal with when it came to installing network gear into Australian Government installations.