Harvey Norman Franchisee Sales Down 5.2%, Described As 'One Of Australia's Most Exposed Retailers'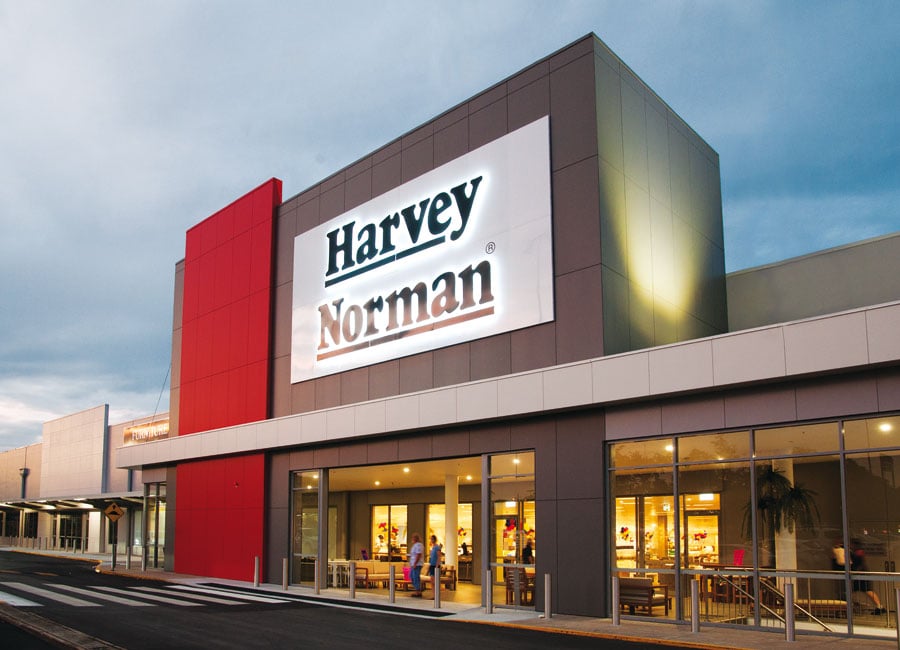 Franchised store earnings at Harvey Norman are down 5.2% to $158M as demand for the Companies furniture, bedding and appliances falls, analysts are now claiming that the mass retailer is one of the most exposed listed retailers to the slowing housing and consumer markets in Australia.
Currently 46 per cent of earnings come from furniture, homewares, appliances and consumer electronics retailing in Australia however Harvey Norman management refuse to reveal the breakdown or the success or failure of these categories unlike their competitors.
Total sales from Australian franchised stores fell 1.7 per cent to $2.95 billion during the half and same-store sales fell 0.6 per cent, compared with 4.1 per cent growth in the year-ago period.
At the same time same-store sales fell 0.5 per cent in the December quarter after falling 0.7 per cent in the September quarter and momentum deteriorated in January and February, with same-store sales falling 2.2 per cent.
What has helped Harvey Norman is an improvement in overseas sales from stores in Europe, Malaysia and Singapore which Chairman Gerry Harvey is now spruiking in an effort to deflect attention away from his poor performing Australian operation.
"The last six months have seen outstanding results from our stores in Singapore and Malaysia, building on the growth we'd already experienced in the region and really delivering in an impressive manner," he said.
"We've found this region to be a very fertile testing-ground for taking new ideas to market, both in retail presentation and proof-of-concept. Quality performance like this further enhances our brand in the region and provides a solid foundation for further development in the near future."
During the December-half Harvey Norman opened one Joyce Mayne franchised complex in Australia and one company-operated store in Malaysia but closed one Harvey Norman franchised complex in Australia and closed one company-operated store in Singapore.
There was also no mention of the much talked about Harvey Norman mega store which was opened in Auburn NSW last year.
Net profit in the six months ended December was flat at $209.7 million. Excluded was $25.6 million in property revaluations, $5.8 million in losses from a failed investment in a dairy farm and a further $6.8 million in restructuring costs for a school supplies business.
Earnings from Australian franchised operations fell 5.2 per cent to $158.5 million as tighter credit and weaker demand for furniture, bedding and appliances impacted the Company.
The poor performance by franchisees has seen Harvey Norman have to fork out $29.6 million in tactical support (down from $31.67 million in the December half 2017).
Adding to franchisee woes is a fall in margins from 5.4 per cent from 5.6 per cent despite higher rents from franchisees ($121.7 million vs $120.8 million).
The highlight of the result was strong growth from Harvey Norman's company-owned stores overseas, where earnings rose 25.4 per cent to $77.5 million following a 12.1 per cent increase in sales to $1.07 billion.
Total aggregated sales from franchised stores and company-owned stores overseas rose 1.6 per cent to $4.0 billion and same-store sales across the group were up 2 per cent, helped by currency and exchange rates.
Harvey Norman said its property portfolio continues its stellar performance, being valued at $2.93bn and representing around 93 per cent of total net asset base.
"Our property portfolio continues to be a major point of difference for us, and is a real competitive advantage against emerging or restructured competitors – both big or small, online or physical. It keeps us a step ahead and provides the flexible, large footprint needed to showcase the best on offer," Mr Harvey said.