BREAKING NEWS UPDATED: Myer Ban Media As AGM 'Brawl Begins"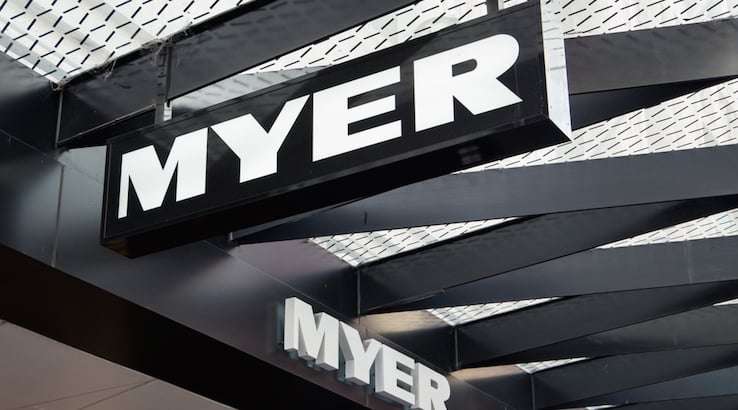 UPDATE: Myer has received a 'second strike' against its remuneration report after its largest investor, billionaire Solomon Lew, successfully rallied other shareholders to his bid to destabilise and turf out the entire Myer board, with 37.49 per cent of proxy votes rejecting the resolution at the annual general meeting this morning.
In Myer's (MYR) historic Mural Hall, chairman Garry Hounsell released the details of the votes which showed that 37.49 per cent had voted against the adoption of the remuneration report, beating the hurdle of a 25 per cent 'no' vote to trigger a second strike
There were 61.83 cast in favour of the remuneration report.
Mr Lew's Premier Investments (PMV) is Myer's biggest shareholder with a stake of 10.8 per cent in the struggling department store owner.
Newly appointed Myer director Lyndsey Cattermole received a 42.8 per cent protest vote and director Dave Whittle was re-elected with a 36.2 per cent protest vote.
The Myer board has avoided a spill despite more than one-third of shareholders – 35.9 per cent of proxy votes – being in favour.
Myer chairman Garry Hounsell used the meeting in Melbourne on Friday to hit back at billionaire Solomon Lew, claiming it has been a "very vindictive campaign" which was terribly destabilising for our staff", "our landlords continually get rattled, our bankers" and described the campaign as a "travesty". He rejected Mr Lew's claims the campaign only hurt to the board but was destabilising the company.
Earlier Media were banned from the Myer AGM, the struggling retailer also tried to ban TV media from filming outside the Melbourne AGM
Ross Greenwood Business Editor for the Nine Network who recently took over Fairfax tweeted "Not welcome! TV crews defy orders by Myer saying TV cameras are not allowed outside its annual meeting … after being allowed last year!"
Not welcome! TV crews defy orders by @myer saying TV cameras are not allowed outside its annual meeting … after being allowed last year! @9NewsAUS pic.twitter.com/Bql4sAbsuK

— Ross Greenwood (@Ross_Greenwood) November 29, 2018
Under siege and after being described as a Chairman who should quit the national retailer Chairman Garry Hounsell told shareholders "Seated in front of you, is a Board, with the right skills, stability, independence and experience
to deliver a successful future for Myer".
Shortly after he began his speech Eli Greenblat posted "Game on! The Brawl in Mural Hall begins".
Game on! The Brawl in Mural Hall begins. @aus_business pic.twitter.com/d4ZZkalzq2

— Eli Greenblat (@EliGreenblat) November 30, 2018
Housell after being attacked by major shareholder Solomon Lew for poor decision making, told the audience that Myer are "Conflict Free" which bought a chuckle from the audience.
He said, "We are conflict free and we are focused on you – our shareholders and on improving the performance of our company".
We are a Board that will support Myer's executive team to deliver our Customer First Plan. This is a plan to put customers first in every action Myer takes and every decision Myer makes"
Referring to John King the latest CEO to take over at Myer and who was described yesterday by Solomon Lew as "a decent jockey riding a poorly trained horse".
"John has done is focused on delivery and he has made a significant number of appointments to his management team".
Listing out what Hounsell described as "achievements he told the audience that Myer have appointed five new Directors during the past three years, each of whom are independent, and who bring the right skills and experience".
We have reduced the Chairman's fees by 25%, since FY17.
We have reduced the Directors' base board fees by 20%, during the past year.
We have introduced a minimum shareholding policy for Directors, and since September 2017, Directors have purchased more than 1.95 million shares.
We have launched our new website with improved search and functionality to grow our multichannel business which we expect to be our largest store within two years. There was no mention of counting iPad instore use as an online sale as was exposed last week.
Myer boss John King on his retail experince "I spent 9 years in women's lingerie … not literally " @aus_business

— Eli Greenblat (@EliGreenblat) November 30, 2018
"We have cut costs across the business" He cited as an example the exiting of the Birdcage enclosure at the Melbourne Cup Carnival, removing a significant number of executive and management positions at the Support Office, and we are in active discussions to hand back further floors at the Support Office, or change location, to reduce costs.
We have announced that all clearance floors will close in calendar 2019 with a focus on enhancing product quality across the Company.
We have launched the new 'My Store' campaign showcasing how Myer has evolved over the years and will continue to be an integral part of the Australian way of life. Customer satisfaction is paramount and, as such, we want to spread the message that customers are being placed first and that we are 'Their Store' no matter where they shop with us in Australia.
Myer fell to a $486 million loss last year, driven by asset writedowns and falling sales, while this month it revealed that sales fell 4.8 per cent in the first quarter of this year.
"The past year has not been an easy one for Myer," Mr Hounsell said. "We have listened to you, our shareholders, as well as our customers, suppliers and employees."
Mr Hounsell said Myer had "achieved a lot" to put Myer back on track, including the appointment of John King, formerly the boss of British department store House of Fraser, the redesign of Myer's website, and store redevelopments and closures.
"We understand the challenges, we have a clear plan to address them and we now have the right leadership to build a better business that delivers for all shareholders," he said.
He asked shareholders to support his board's work by backing the appointment of new director Lyndsey Cattermole, who was appointed last month.Solomon Lew claims she does not have the experience to be on the Myer board.
More to follow.