Big W Profit Still On The Cards Despite COVID19
Embattled discount department store, Big W, has continued to progress its turnaround strategy, with parent company Woolworths still expecting the retailer to turn a profit for F20 despite the impact of COVID19.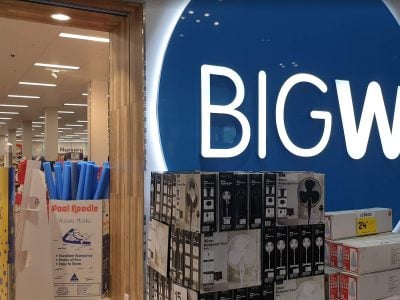 Big W states sales have "remained strong" in Q3, as the sales mix shifts towards more everyday and leisure items during the pandemic.
In the second half of the year, Big W expects to be further hit with incremental costs and higher online fulfilment needs prompt by COVID19.
Based on current group forecasts, Woolworths still expects Big W to make a "small profit" for F20.
For the thirteen weeks to April 5, Big W total sales climbed 9.5% to $866 million, up from $791 million last year.  Comparable growth notched 9.9%.
Easter-adjusted comparable sales lift 8.8% with Big W the only group business with a material Eatser-timing impact. 
Q3 marks Big W's eight straight quarter of positive comparable sales growth. 
The retailer's sales have grown every month in Q3, accelerating from late February prompt by coronavirus.
Big W Q3 online sales climbed a whopping 73%, coupled with a spike in home delivery from self-isolating customers.
"The last four months have been one of the most challenging periods in the history of Woolworths," states Group CEO, Brad Banducci.
"Group sales growth for the quarter was strong across all businesses apart from Hotels following the mandatory closure due to government restrictions in late March."
"Big W sales growth also accelerated in March, although the sales mix shifted towards lower-margin everyday needs and leisure."
The news comes after Big W reported its first first-half profit since 2016, as the discount department store continues to progress its restricting and turnaround strategy.
During March, Big W's customer metrics (e.g. Net Promoter Score) improved materially versus the prior year, as customer responded positively to its range and value proposition. It comes amid fierce competition from rival Kmart.
In Q3, Big W's category mix shift, with 'home essentials', leisure and toys performing strongly, as apparel declined.
Three Big W stores were closed during the quarter as part of its ongoing network review, notching 180 stores by April 5, 2020.
The news comes after the shock closure of a loss-making Big W store in Brisbane this week, as coronavirus continues to impact The Australian retail industry and discretionary spending.
Big W management has advised they do not anticipate any future store closures to be subject to such tight vacation time frames.
Woolworths states the group's financial position "remains strong", with access to funding, liquidity and "significant headroom" under rating agency metrics and banking covenants.