BenQ Claim #1 In 4K Projectors, "No We Are" Claims Optoma
A battle over who is the number one 4K projector brand broke out, Yesterday in Sydney, BenQ claimed they were number one in Asia Pacific citing Futuresource research, arch rival Optoma responded claiming "no" they were number one based on research from PMA Marketing.
In Australia BenQ claim to have 30.8% 4K market share in a market that is dominated by both Sony and Epson. Neither research Company have explained how they collect data in Australia.
Optoma claim to have snared 21.9% of the global 4K market in 2019 while BenQ claims to have over 30% both are Taiwanese Companies.
Gordon Wu, Vice President of Optoma APAC said "4K is becoming the new resolution standard. Optoma will keep upgrading its 4K projection technology and moving towards to dominate the smart 4K industry." he claimed.
BenQ's President of the Asia-Pacific region Jeffrey Liang claimed that BenQ had held the no.1 spot in DLP projection for a full decade, and the no.1 spot in 4K projection in Asia-Pacific.
Unlike BenQ Optoma has launched the world's first voice-enabled 4K projector while BenQ is concentrating on the quality of the projection claiming that accuracy above all is what matters.
At yesterday's two-hour press conference BenQ announced the two new 4K UHD home cinema projectors, including the $2499 W2700.
This home device has Ultra-HD resolution using Texas Instrument processors that support for High Dynamic Range in HDR10 and HLG flavours, and 95% delivery of the DCI-P3 colour space.
The W2700 delivers true 24Hz as well as 60Hz frame rates, While 50Hz is supported at 1080p claims BenQ.
This device is a direct replacement for the W1070 and W1070+ projectors.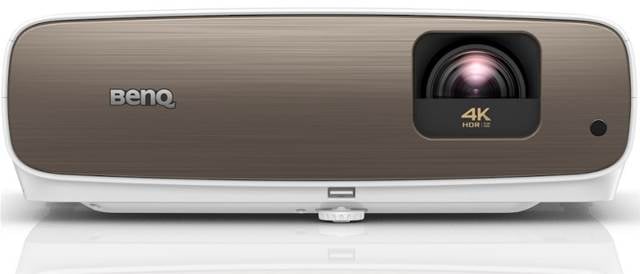 Attending yesterday event were several special dealers from around Australia.
The new BenQ home offering also has a UHD resolution of 3840 x 2160, a brightness level of 2000 ANSI lumens, and a full-on full-off contrast ratio of 30,000.
The Taiwanese Company had teething problems demonstrating the new projectors but when they kicked in, they were able to demonstrate the 30-bit colour of the W2700.
Other features of the W2700 is a dust hood over the lens and a 1.3x zoom, with vertical lens shift, delivering a 100-inch image at a distance of 2.5 metres.
BenQ Australia's Managing Director Martin Moelle claimed that their new offering was an ideal "living room home cinema solution".
The BenQ CinePrime W2700 will be available by end-March, with an RRP of $2499.