Motorola Unveils New Bendable Wrist Phone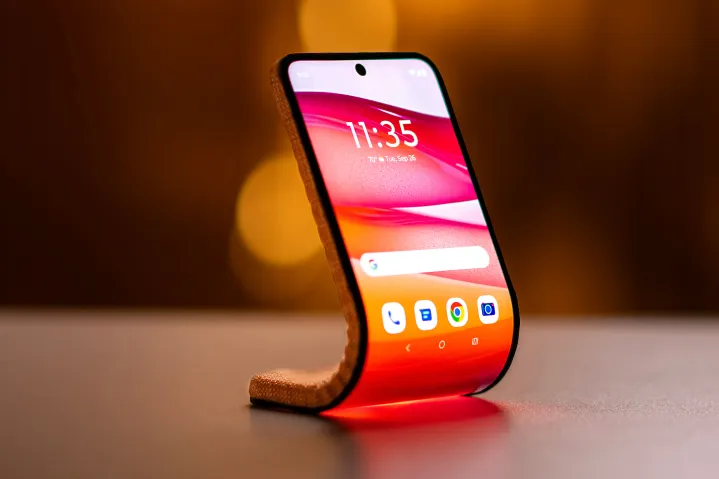 Motorola has revealed a new smartphone, which can be bent and worn as a bracelet or watch.  
 "The adaptive display concept can be adjusted from a standard Android phone experience in a flat position to being wrapped for a wrist-worn experience or positioned in several stand modes," said the company, further adding the concept device can run the full Android experience. 
It's a large smartphone built around a flexible OLED display, that can bend backwards to wrap around a wrist.  
Motorola unveiled a similar concept phone at the same event in 2016, but this one could only fold into a snap-bracelet. This new one can bend into multiple different poses. 
It has an orange fabric ribbed backing, with folding points that allow it to bend at different seams, and stay locked in the position it's set in. In a "natural" state, it has a 6.9-inch FHD+ plastic OLED panel, which can bend to achieve a usable 4.6-inch panel in standing mode. 
It appeared the phone's orange fabric back latches on to a magnetised wrist strap. 
The company has suggested pairing this wrist-worn mode with one of its new AI features that creates a phone wallpaper to match the user's outfit. 
Without the wearable possibility, this becomes a serviceable folding phone, however it bends outward. There are various adjustments alongside the mid-half and two-thirds geometry.  
As this is a concept, consumers shouldn't expect to see it in stores anytime soon. It's more of an experiment Motorola are conducting.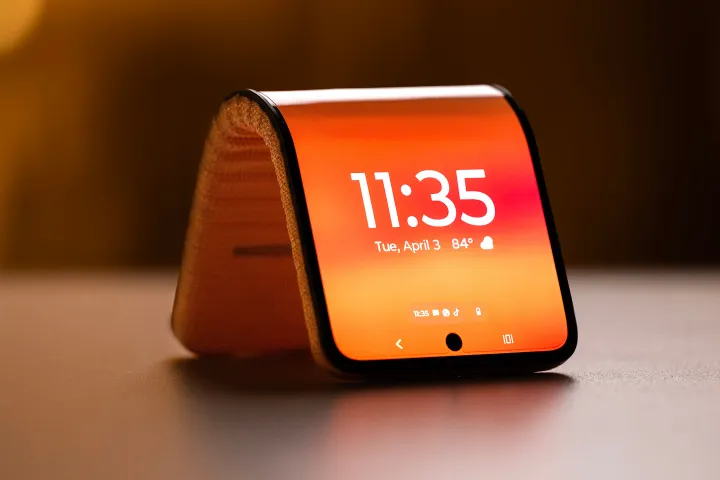 Due to this, pricing and availability are out of the question. Critics are wondering, however, about the phone's durability, how heavy it may become on a wrist, if it's possible to wear for long periods, and if this concept phone should remain a concept only.