LG Launch World First 8K OLED, Coming Q4
LG Electronics has taken on fellow Korean giant, Samsung, by launching the world's first 8K OLED TV – ChannelNews understands local availability is slated around Q4.
South Korean pre-orders for LG's 88-inch 8K OLED TV (88Z9) will open this week, reportedly starting from US$34,000.
Availability in "key markets" of North America and Europe will follow in Q3, with Aussie pricing and availability details to be confirmed.
"Being the first to market with the world's first and largest 8K OLED TV shows our commitment to leading the ultra-premium TV segment and delivering the ultimate viewing experience," affirms Brian Kwon, LG President of Mobile Communications and Home Entertainment companies.
"LG was a pioneer in bringing OLED to market and we will continue to introduce state-of-art TV technologies that push the boundaries of what's possible in home entertainment."
The LG 88Z9 is its largest OLED TV yet, featuring an "advanced panel" with over 33 million self-emitting pixels and the "most lifelike" colours across a wide viewing angle.
The TV pledges exceptionally sharp images with an 8K Ultra HD resolution of 7,680 x 4,320 – around 16 times the number of pixels found in full HD and four times that of UHD.
In some markets, the TV will also offer built-in Google Assistant and Amazon Alexa voice assistance.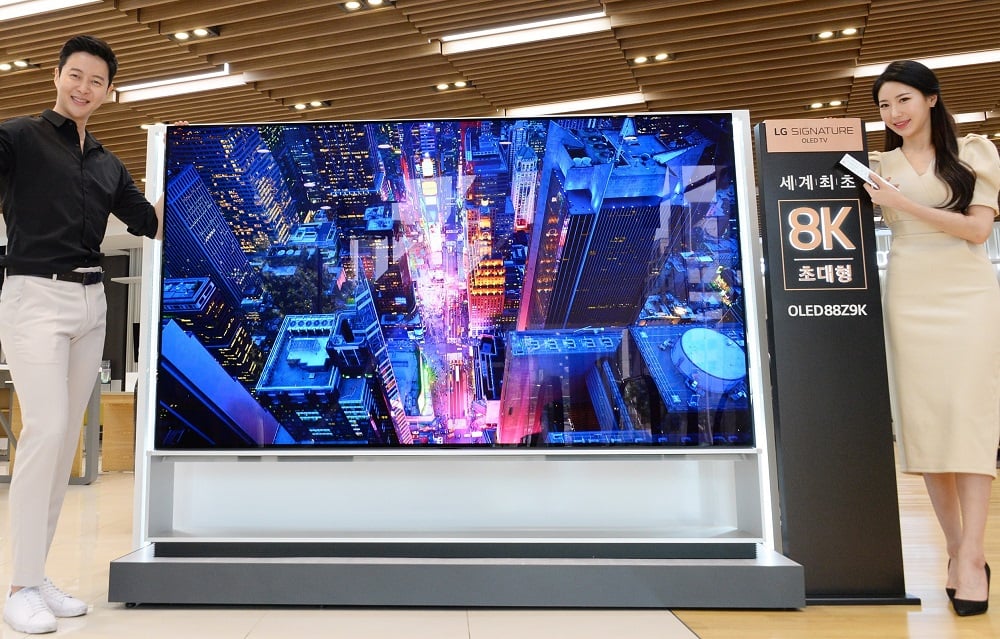 Powered by LG's second generation α (Alpha) 9 Gen 2 8K processor, the TV uses deep learning technology to elevate picture and sound quality.
The chip seeks to optimise content and recognise source quality, by harnessing optimal algorithms for "guaranteeing stunning real images."
Using the α9 Gen 2 8K processor, the TV pledges effective 8K upscaling and improved noise reduction to 6-steps, versus 4-steps in the 4K version.
LG asserts it offers the most life-like 8K picture when upgrading from 4K (3,840 x 2,160) or 2K (1,920 x 1,080) content.
The TV's processor also assesses ambient conditions to customise the "perfect level" of screen brightness.
Audio performance has also been boost to up-mix two-channel audio for convincing virtual 5.1 surround sound.
Using deep learning, source content is improved – e.g. "enhanced sound effects in movies", "deeper bass in music" and "clearer voices in sporting."
The LG 8K OLED TV comes with Dolby Atmos, and intelligently fine-tunes content compatible with Dolby Vision.
The TV also supports HDMI 2.1, providing users 8K content at a fast 60 frames per second.
The product also claims to support automatic low latency mode (ALLM), variable refresh rate (VRR) and enhanced audio return channel (eARC).