Global PC Shipments Continued To Slip In 2016
Gartner and IDC numbers released for the fourth quarter of 2016 indicate that the global PC market has declined for the ninth quarter in a row.
Gartner estimates worldwide PC shipments fell 3.7 percent to 72.6 million units in the fourth quarter of 2016, marking the fifth year of consecutive PC shipment declines.
They say "2016 shipment totals were at the same levels as shipments in 2007."
Gartner ranked Lenovo, HP, Dell, Asus, Apple, and Acer as the top six vendors. However, they found that only Dell managed to grow their share and outside of those major companies the market shrank almost 19%.
"Stagnation in the PC market continued into the fourth quarter of 2016 as holiday sales were generally weak due to the fundamental change in PC buying behavior," Gartner principal analyst Mikako Kitagawa said in a statement.
The latest IDC numbers paint a similar picture, at least when it comes to the broad strokes.
They found that worldwide PC shipments slipped 1.5 percent to 70.2 million units in the fourth quarter of 2016, with Lenovo, HP, Dell, Apple, and Asus making up the top five vendors.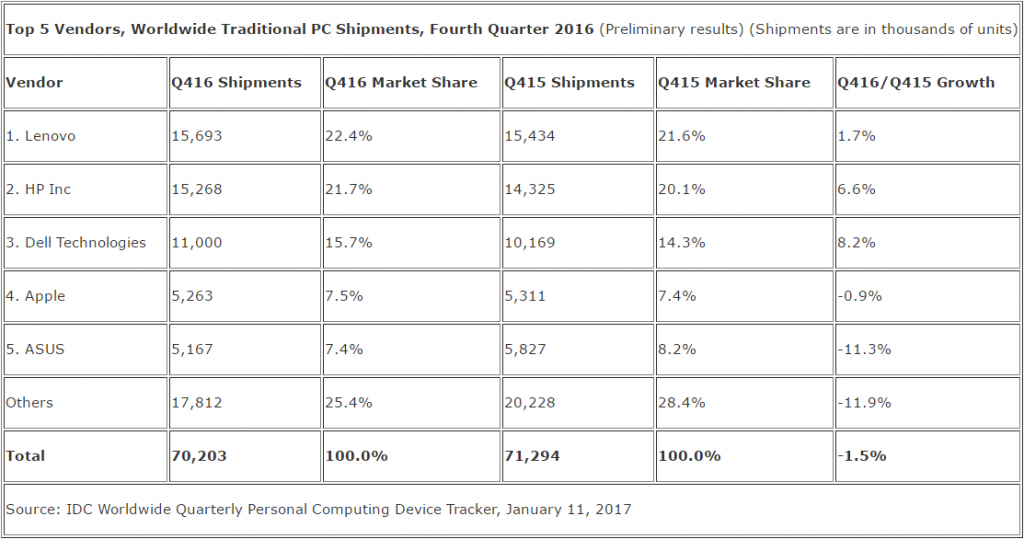 Unlike Gartner, IDC claim that HP saw significant growth despite the overall market contraction.
According to IDC analyst Loren Loverde, "the fourth quarter results reinforce our expectations for market stabilization, and even some recovery."
"The contraction in traditional PC shipments experienced over the past five years finally appears to be giving way as users move to update systems. We have a good opportunity for traditional PC growth in commercial markets, while the consumer segment should also improve as it feels less pressure from slowing phone and tablet markets," Loverde said.