Fitbit "Charge 3" Takes On Apple Watch
Fitbit is taking on Apple by announcing that they will release the Charge 3 in November 2018, from $229.95 . A special edition will cost $269.95 and accessories will be within the $49.95-$69.95 range.
Given the October 4 release of the Pixel Watch and with Apple expected to release theirs in September, we're about to see all major smart watch manufacturers go head to head.
The Charge range of Fitbit devices have been the most popular product of all their offerings, selling 35 million devices globally.
James Park, co-founder and CEO of Fitbit celebrated the launch, saying "With Charge 3, we are building on the success of our best-selling Charge franchise and delivering the most innovative tracker on the market, offering an extremely slim, comfortable and premium design along with the advanced health and fitness features our users want.
"Charge 3 gives existing users a compelling reason to upgrade, while also allowing us to reach new users who want a more sleek, affordable wearable in a tracker form factor,
"Our commitment to consumer choice and ability to meet the demand of millions of users by offering a range of products, from trackers to smartwatches, enables us to continue to expand our share of the overall wearables market."
We can expect a whole new suite of features in addition to improvements in overall design, including an expanded 7 day battery life, swimproof design, Sleep Score beta and Sp02 sensor.
The device will come preloaded with 15+ goal-based exercise modes and essential smart features to "stay connected".
Smart features will bring a broader range of functions to the Fitbit, allowing notifications from your calendar, texts and smartphone apps to be viewable on your wrist, as well as letting users accept or reject calls.
Highly requested app integrations will be available in this generation such as alarms, timers, weather conditions, leader-board results.
Fitbit Pay contactless payment means you will be able to use the Charge 3 to pay via more than 100 financial institutions in 18 countries.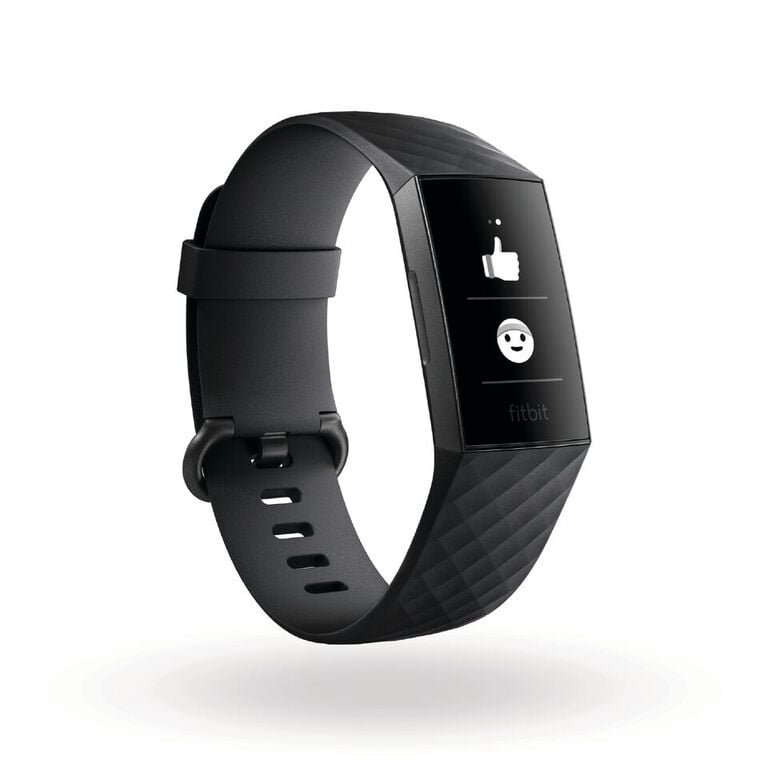 Protected by an aerospace grade aluminium case, the Corning Gorilla Glass 3 display will provide for a slimmer model while also increasing durability.
Animations and expressive graphics will play in grayscale to drive engagement with the device through fun milestone celebrations on a screen that will be 40 larger and brighter than the previous generation.
Fitness functions within the device have been expanded too. 24/7 PurePulse is greatly improved from the Charge 2, giving more accurate data on calorie burn and resting heart rate measurements.
An Sp20 sensor, a new addition to the range, can estimate relative blood oxygen levels allowing for new data to be collected and may help identify issues such as sleep apnoea in the user.
The Charge 3 is going deep into sleep monitoring. Shelten Yuen, VP of Research at Fitbit said "Fitbit continues to harness its data to give users actionable insights into their health and wellness.
"For example, we've found that one in four people get significantly more sleep on weekends than weekdays, which implies they are trying to make up for reduced sleep during the week.
"We can deliver insights to these users through the Fitbit app to make them aware of how this behaviour affects their well-being and suggest how to set up a sleep schedule,
"In the future, we hope to provide more guidance to our users to reduce the risk of disease so they can become the healthiest versions of themselves."
Sleep Score beta will roll out later this year, giving Fitbit owners a nightly score to produce a detailed analysis of your seep quality over time.
Female health tracking functions go further to prove that Fitbit isn't only about exercising, but is about monitoring your health overall. The Charge 3 will allow users to track their menstrual cycle by having the wearer log their periods, giving women the ability stay on top of health issues that may arise.
Personal tracking and social motivation bring the human touch to the device, giving positive reinforcement and help to course correct both to the individual from the device and from other people through the Fitbit app.