EXCLUSIVE: Why Did The ACCC Single Out Samsung Over Water Resistant Claims & Not Apple Or Oppo?
COMMENT: Back in 2019 the Australian Competition & Consumer Commission singled out Samsung claiming that they had engaged in false, misleading and deceptive representations in advertising the water resistance of various 'Galaxy' branded mobile phones.
The ACCC commenced legal action in the Federal Court, but the big question is why not Apple, Realme, Oppo or the likes of Google with their Pixel range of water-resistant devices as all these brands were marketing their devices as being water resistant to the International IP standard.
This is not a Samsung standard it's an International standard adopted by businesses selling electrical goods such as smartphones and tools.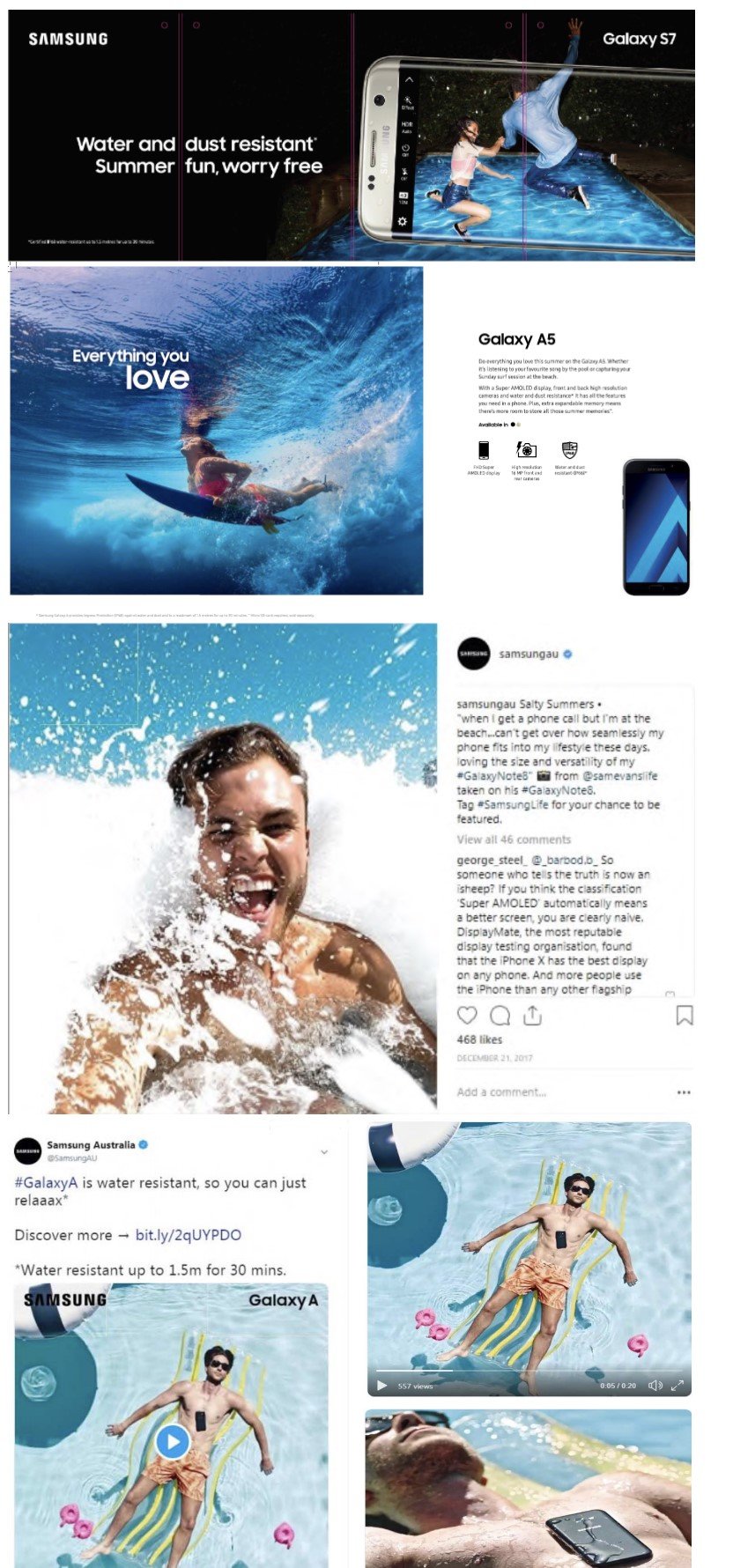 Recently ChannelNews revealed that Samsung Electronics Australia has made a provision of over $16M in their latest financials in the event of the Federal Court ruling in favour of the ACCC.
Investigations by ChannelNews has revealed that several global smartphone brands marketed their devices as being water resistant in Australia, in the same way that Samsung did back in 2019.
And while they did not spend as much money on a national marketing campaign pointing out the water-resistant qualities of their devices, they did market to Australian consumers the IP67 or IP68 water resistant capabilities of their devices in a similar manner to Samsung.
Apple is telling consumers that their iPhone Phone XS and iPhone XS Max have a rating of IP68 under IEC standard 60529 (maximum depth of 2 meters up to 30 minutes).
They also claim that their iPhone SE (2nd generation), iPhone XR, iPhone X, iPhone 8, iPhone 8 Plus, iPhone 7, and iPhone 7 Plus have a rating of IP67 under IEC standard 60529 (maximum depth of 1 meter up to 30 minutes).
The ACCC alleges Samsung's advertisements falsely and misleadingly represented Galaxy phones would be suitable for use in, or for exposure to, all types of water, including in ocean water and swimming pools, and would not be affected by such exposure to water for the life of the phone, when this was not the case," ACCC Chair Rod Sims said.
ChannelNews has asked the ACCC to supply us with any evidence that the Samsung Galaxy smartphones don't comply with the International water resistant standard.
In their latest release of new smartphones Samsung is claiming that their new Galaxy Z Fold3 and Galaxy Z Flip3 are equipped with IPX84 water resistance, Samsung also claims that IPX8 is based on test conditions for submersion in up to 1.5 meters of fresh water for up to 30 minutes.
Back in 2019 Sony was forced to recall their Xperia smartphone because it failed the water-resistant test.
The ACCC claims Samsung did not have a reasonable basis for making the representations because:
It did not test or know of testing (or sufficient testing) about how exposing a Galaxy phone to water (including non-fresh water) affected its usable life.
It held the view that using Galaxy phones in liquid other than fresh water could damage them. For example, Samsung's website states that the new Galaxy S10 phone range is 'not advised for beach or pool use'.

It has denied warranty claims from consumers whose phones were damaged when used in water.
Aside from not having a reasonable basis, the ACCC also claims that the representations are false, misleading and deceptive, because the Galaxy phones were not suitable for use in all types of water, and the life of the phones could or would likely be adversely affected if used in water (including non-fresh water).
If this is the case, why has the ACCC allowed smartphone brands to continue marketing the water resistance claims.
The ACCC also claimed that Samsung's Galaxy phones which were advertised as being water resistant were sold at a higher price than Samsung phones which do not have this feature.
"Samsung's advertisements, we believe, denied consumers an informed choice and gave Samsung an unfair competitive advantage," Mr Rod Sims the Chair of the ACCC said.
Cheap phones don't have top end processors and back in 2019 Samsung's A8 & A5 smartphone had water resistance built in.
Back in 2019 the Samsung devices that the ACCC is taking action against were backed by an international standard rating that deemed them fit enough to withstand dust, dirt and sand, and are resistant to submersion up to a maximum depth of 1.5m underwater for up to thirty minutes.
These specifications were based on test conditions for submersion in up to 1.5 meters of freshwater for up to 30 minutes, a visit to the
IP (or "Ingress Protection") ratings are defined in international standard EN 60529 (British BS EN 60529:1992, European IEC 60509:1989). They are used to define levels of sealing effectiveness of electrical enclosures against intrusion from foreign bodies and water (smartphones tools, dirt etc) and moisture.
Information on IP ratings can be found here: https://www.dsmt.com/resources/ip-rating-chart/
We are still waiting for a reply from the ACCC.