Connect Your AirPods To Any 3.5mm Source With AirFly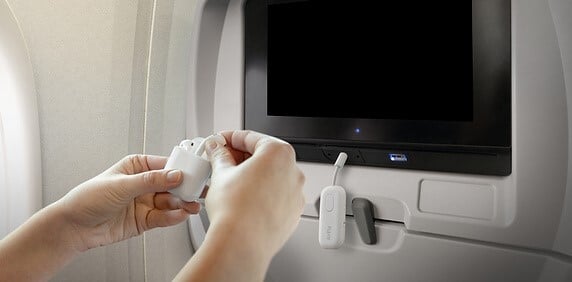 Accessory maker TwleveSouth has launched the follow up to its successful AirFly adapter which allows AirPod users to connect their earbuds any audio source with a 3.5mm headphone jack, including aeroplanes.
The AirFly Pro will cost US$54.99 from the US Apple Store, with its predecessor sold at Officeworks for AU$64.99, so hopefully, we will see the latest model arrive in Australia at some time.
While the device has been built especially for AirPods, the AirFly Pro will work with any set of Bluetooth headphones to wirelessly transmit audio from any 3.5mm audio jack.
Though it's Pro designation comes from its ability to stream audio out, meaning it can be utilised to stream directly from your phone to a vehicle's sound system, or stream audio to a speaker system.
Another trick is its audio sharing function, similar to Apple's audio sharing feature introduced for its AirPods allowing users to connect two pairs of headphones at once to the AirFly Pro dongle.
AirFly promises 16 or more hours of wireless audio playback, with charging via the USB-C port which also allows for USB-C audio playback.
Alongside the AirFly Pro, the Duo and USB-C model of the original AirFly dongle have also been released by TwelveSouth.