SmartHouse Best Of Best Awards 2017: Day Four
Best Security – Netgear Arlo
Protecting your home or business is made easier than ever with Netgear's Arlo smart security systems.Installation is simple with weatherproof wireless cameras that magnetically attach to wall mounts. The cameras communicate with an internet-connected base station to be monitored from anywhere, and you can go back to review footage from the past 7 days with free cloud recording.
The Arlo range is also expanding to include a baby monitor, the Arlo Baby, and a fully wireless camera with 3G/4G connectivity, the Arlo Go.
Netgear makes home security smart and simple with Arlo.
Best Gaming Headphones – Sennheiser PC 373D
The PC 373D strikes a great balance between everything you want out of a good set of over-ear headphones – and that level of excellence holds up whether your play-session lasts minutes or hours. On top of this, the ultra-accessible volume wheel located on the right earcup that proves itself a fast and effective way of configuring volume at a master level without having to take them off or mess with cabling.
It's a design feature that makes for a worthy accompaniment to the PC 373D's sleek Dolby Surround-enabling dongle. As far as gaming headsets go, it feels like the perfect combination of strengths and a worthy flagship product for Sennheiser.
Best Mouse – Logitech MX Master
A sleek beast borne of hard and soft plastic and coated in gold, Logitech's MX Master earns its place as the company's flagship mouse. Gentle grooves along the side of the device give it a unique sculpted quality that's not just aesthetic but also ergonomic.
Scrolling has never felt so tactile and even the simple act of clicking now carries with it a sense of elegant empowerment. Simply said, it brings the cutting edge of the power-user mouse category to the mainstream – and there's little that can hold up in comparison.
Best Keyboard – Logitech K780
If you find yourself constantly switching between a computer, tablet and smartphone, Logitech's K780 wireless keyboard is ideal for you. Designed to make the transition between typing on each device as easy as possible, switching connected devices simply requires a click of the 'Easy-Switch' button.
The large and concave circular keys of the keyboard enable smooth, silent typing, plus helpful features like the numbers pad and shortcut keys are also present. A built-in rubber cradle can even hold most smartphones and tablets.With typical usage, you won't have to worry about changing the AAA batteries for two years.
For a quality keyboard that goes beyond the desktop, look no further than the Logitech K780.
Best Tablet – Samsung Tab S2
Packing an edge in price, features and form-factor, it's hard to look past this one.Wrapped in a smooth aluminium shell and available in three colours, the Galaxy Tab S2 offers up a timely upgrade in both size and form factor over its predecessor. Simply put: it proves you don't need to run on iOS to offer up a clean, polished and accessible tablet experience.
Apple may have popularized the tablet but Samsung have taken the reigns here. They're delivering improved performance and vibrant screen quality here that's as reliable and versatile as Android gets. Whether you're planning to chill out and watch something on Netflix, browse the web or engage in more-intensive matters, the Galaxy Tab S2 is up to the task.
Best 2-In-1 – Acer Switch Alpha 12
Acer's Switch Alpha 12 understands that what you want out of a laptop first thing in the morning isn't necessarily always going to be what you want out of it in the afternoon. It's a 2-in-1 that accommodates for that reality – balancing portability and usability with ease.
Out of the box, the Alpha 12 makes for a sturdy workstation but when the need calls for it can be easily detached and used as a tablet. It hinges upon an adjustable kickstand and the ultrasharp 12-inch screen also works as a multi-touch display. It's been designed to strike a balance between durability and flexibility – and it strikes its chord with resounding style.
With the challenges of modern workplaces being what they are, it's hard to imagine a better solution than the Switch 12.
Best Router – Netgear Orbi
The new Netgear Orbi home Wi-Fi system burst onto the scene late in 2016. The first thing you notice is that this device is no ordinary piece of networking kit, it's stylish and designed to look like a speaker due to its cylindrical form factor. Out of the box you get a router and one or more satellites that are very easy to install and manage.
Under the bonnet is new Multi-User Multiple Input Multiple Output (MU-MIMO) networking technology that delivers simultaneous data streaming.While it's pricey you are getting a top end piece of kit that is encased in a white, soft-touch enclosure, the only difference the cylindrical top flashes to let you know the state of your wireless network.
It has six internal antennas and can deliver theoretical throughputs speeds of 1,266Mbps to clients (400Mbps on the 2.4GHz band and 866Mbps on the 5GHz band). The third band is dedicated purely to communications between the router and the satellite. This is a 5GHz band that can reach maximum speeds of 1,733Mbps.It's the best there is out there.
Best Chromebook – Acer R13
Acer's R13 doesn't just show off the strengths of Google's accessible laptop line, it exemplifies them and puts ordinary laptops to shame. Whether we're talking about price, performance, versatility or design – it beats them all. Where a normal laptop will lose performance and battery life over time – Chromebooks are set to get only better.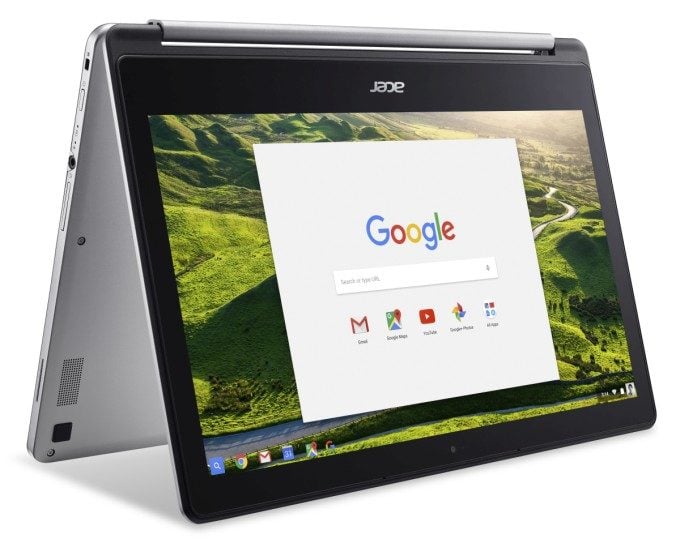 What's more, Google recently brought the Google Play Store to Chromebooks – adding support for millions of applications and cementing it as a considerable competitor even audiences beyond students. Acer's R13 isn't just the right choice. It's the easy one.
Best Gaming Keyboard – Razer Ornata
Branded as the world's first mecha-membrane keyboard, Razer's Ornata sets a new standard for high-end keyboards. Cleverly combining mechanical switches and rubber domes, the resulting experience is significantly more tactile and responsive than the offerings of its rivals.
On top of these technical gains, the Ornata also looks superb. When in use, it fully integrates with Razer's Chroma suite to bestow a quiet ambience to any gamers setup. It's sleek, fast and flickers between 16.8 million colour settings. It further sweetens the deal with an ergonomic wrist-rest.
You've never seen a keyboard like this – and once you've spent some time with it you'll never want to go back.
Best Gaming PC + Monitor – Acer Predator X34 + Acer Predator G1
Acer are touting the machine as 'VR-Ready' but the reality goes way beyond that. The G1 can pretty much ready to run any serious title available on the PC. With the G1, you're getting a machine that's ready and rearing to go from the moment you plug it in. It's got specs to last and a case design that earns its place at the heart of your next gaming setup.
A crisp 34-inch backlit display, the Predator X34 is a slick package that actively works to enable gaming experiences that are as detailed and sharp as they are immersive. It boasts a sleek black frame with an atmospheric underlight and a sturdy aluminium base. It's got all the right edges in all the right places and blends together black, silver and red tones with easy and striking style.