Review: HyperX's FPS Alloy Keyboard Is A Solid Start
HyperX is slowly but steadily becoming a gaming brand with a lot of cache and positive rep behind it. The company, a division of Kingston, originally began with gaming-designed components like SSD drives and RAM sticks but has steadily grown its range to include gaming peripherals proper. After releasing a steady stream of value-driven gaming headsets, the company has now released its first true mechanical gaming keyboard: the FPS Alloy.
Though it's definitely a first-generation product, there's a lot to like here. The design of the FPS Alloy emphasizes both durability and compact form-factor. The keyboard's solid-steel frame is weighty enough that you're unlikely to nudge it this way or that when in use. That said, if you do plan on moving the Alloy around, it arrives with a very nice mesh carry-case.
Space-saving and minimalism are the name of the game here. The Alloy FPS takes up exactly the amount of space a fully-sized keyboard has to – no more and no less. There's no padding you to rest your wrists upon, nor are there any additional function keys. The closest thing to a frill the Alloy brings to the table is a USB slot on the side that can be used to charge your phone or tablet.
As well as serving to maximize the amount of desk space players have to use their mouse, this approach also leaves the HyperX looking quite sharp at a glance. The Alloy's crimson backlight can be customized between six preset LED modes that allow you to modify it to suit the environment and lighting of the room you're using it in.
Given it's gaming-focus, HyperX have also equipped the Alloy with a "game mode" disables the Windows key to prevent accidental interruptions. The mode also enables anti-ghosting and full N-key rollover ensuring every keystroke is registered and executed as quickly as possible.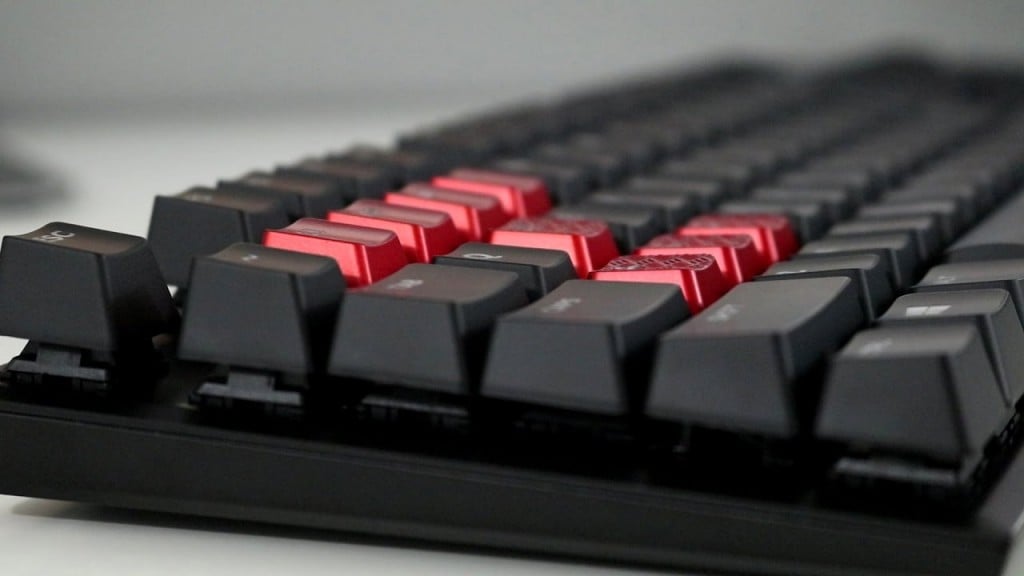 A similar sort of thought has gone into the Cherry MX mechanical keys that cover the Alloy. Aimed at both high-end responsiveness and long-term durability of up to 50 million key strokes per switch guaranteed with no loss of quality or responsiveness.You can even swap in a set of striking red keycaps that ensure the keys you use the most (for games) last even longer than that.
Conclusion
Like I said before, there's a lot to like here. The Alloy FPS is a satisfying keyboard and even more satisfying keyboard to use. Every aesthetic and design characters feels like measured and deliberate choice on the part of HyperX to create a keyboard that you don't just want to buy but want to actively stick with for years to come. If you want a gaming keyboard that gets the job done – no questions asked – this is the one to get.
Score: 4.0/5.0
The HyperX Alloy FPS Keyboard is available for an RRP of $159.