Comment: Why Philips Is Making A Big Mistake When It Comes To Premium TV's
Is Philips or rather their global TV distributor TP Vision, making a big mistake in OZ, by their decision not to bring in their top end premium TV models.
Here is a brand that has been a household name for decades, it is truly a quality brand and if the recent TV's that I saw at IFA are anything to go by they could easily become a major brand at the expense of brands such as Hisense, Panasonic who are struggling to grow sales and Sony who while on a current surge could be easily beaten by Philips.
Another issue working in favour of Philips is there is at least one major retailer who is looking to seriously back a known brand and Philips is the brand to do it with.
The problem for Philips globally is that they see Australia as a small bottom end of the earth market that is irrelevant when compared to markets like the USA, Europe and Asia. we are simply too small for them to really want to put any effort into going after market share.
They are also demanding tens of thousands of the local Philips distributor to customise their premium TV's for the Australian market.
They want "volume" before they will consider allowing their top end TV's which include OLED and premium 4K UHD TV's to be sold here and that is a big mistake.
If Philips were half smart and we know they are not by their past marketing stuff ups, in various global markets including Australia, where they were forced to exit the TV market several years ago they would bite the bullet and work hand in hand with their local distributor Tempo to seriously have a crack at trying to be the #3 TV brand in this market.
Their Android TV offering is among the best there is, and the quality of their top end models is equally as good some of the top selling Ultra High Definition
In Europe for example Philips will have three lines of OLED TV in 2018 – and they are set to be significantly cheaper than what both Panasonic and Sony as well as LG are currently selling their OLED TV's for in Australia.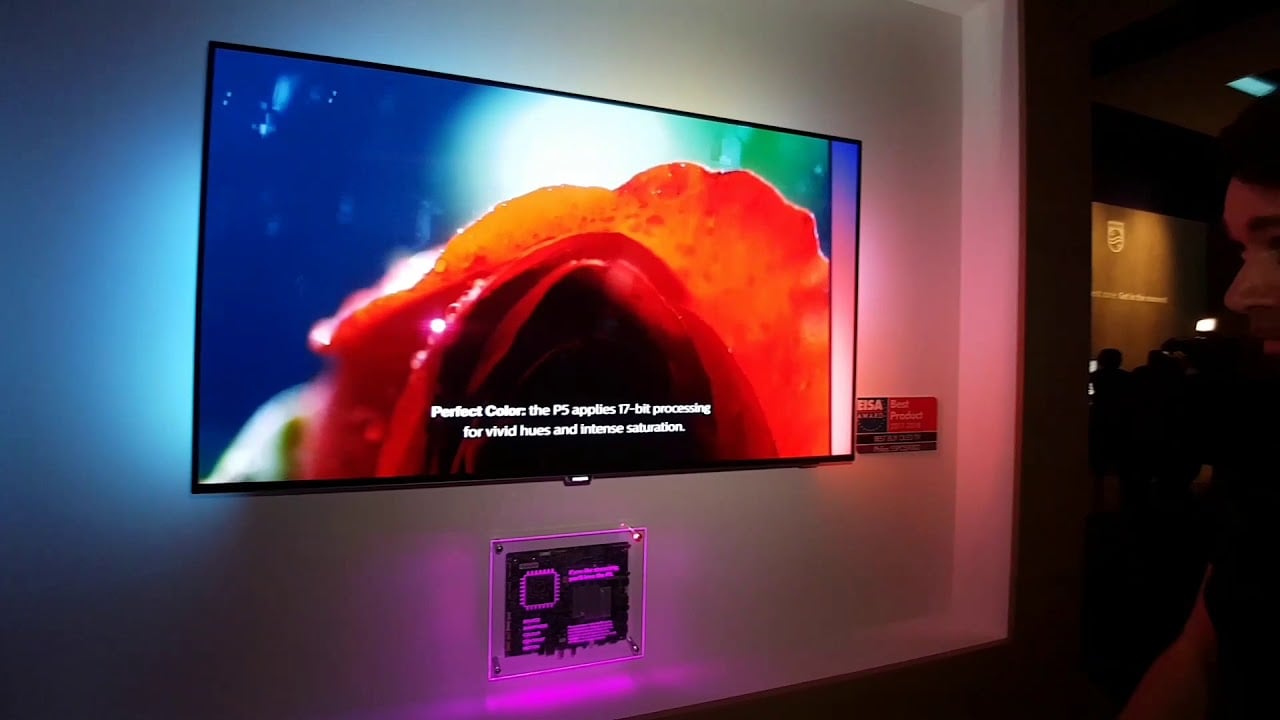 At a recent European launch event in Amsterdam, Philips unveiled its new family of OLED TVs.
The bottom end new one is the Philips OLED803 series.
It's being pitched as the entry-level OLED model to complement the firm's higher-end models that are already available in Europe.
There's no pricing information as yet, but the OLED803 line is supposed sit below the Philips 9002 OLED from 2017, which continues to be sold into 2018 after getting "rave" reviews by some of Europe's toughest TV Critics.
Philips OLEDs use Philips' proprietary P5 processor, which emphasises contrast, colour, sharpness, source quality and motion.
As with all of Philips' top-tier TVs, the OLED803 line benefits from three-sided Ambilight, which uses LEDs on the rear of the TV to shoot light over your walls. The idea is to expand the picture to your peripheral vision, as well as to reduce eyestrain.
Philips has paid considerable attention to the design of its new OLED. The OLED803 has a monolithic theme that cuts down on the frills, so the focus is very much on the picture, with the only standout element being its fine and very shiny feet.
The new televisions will also each fall into either the 55-inch and 65-inch class and will come with several common features built-in.
Among the new improvements that the 2018 Philips OLED TVs will ship with are a new Philips-built P5 image processing engine, a quad-core processor powering Android under the hood, and a slim bezel-related feature Philips calls its three-sided Ambilight Spectra XL system.
That's on top of the inclusion of the latest advancements in HDR – with support for both HDR10 and HLG – offering a peak white output of up to 900 nits for better-than-average contrast ratios – coupled with a colour gamut that is rated to cover 99-percent of DCI-P3.
But despite looking a little insubstantial, it's home to three subwoofers at the back; so, while it looks thin, it doesn't have to sound thin.
The Philips OLED803 will be available in 55 and 65 inches when it's released in May 2018.
Further up the range, there's the Philips OLED973 and the OLED873. The OLED973 is the same as the Philips 9603, which was unveiled at IFA last year, while the OLED873 is also an existing TV – in this case, a renamed Philips 65″ 9002.
In Australia brand is critical and while Philips already have brand clout as well as a reputation for excellent engineering, their absence in the top end of the market is going to open the door for brands such as TCL who are already seen as a growth brand that delivers TV's that are superior to Hisense who sell on price not quality which is why they have gained market share.
By competing with an excellent premium TV range in the top end market Philips would easily mop up sales in the value end of the market at the expense of several other brands who don't have the reutation that Philips has.