Sonos Hooks Up With Amazon, New Voice Activation Not Available In OZ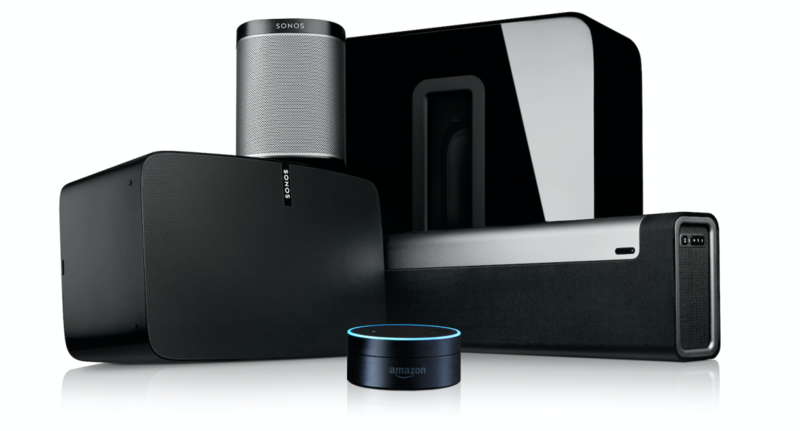 Sonos has a great new voice activation feature built around Amazon's Alexa-enabled Echo technology, the only problem is that the Amazon component is not currently sold in Australia.
Overnight Sonos who took over the operations of Playback Systems, the former distributor of Sonos products in Australia announced that starting in 2017, its speakers will feature voice control via Amazon's Alexa-enabled Echo, Tap, Dot and Fire TV.
The features will be delivered via a software update and will be compatible with new and existing Sonos speakers.
An invite-only beta test will commence later this year.
The company, which restructured earlier this year as it redirected its focused toward voice control and streaming, also said Spotify users will be able to control Sonos systems directly in the Spotify app beginning in October.
Using the Sonos Controller app will no longer be necessary.
Sonos also reaffirmed its commitment to working with other streaming services, including Pandora. Its systems already feature Apple Music streaming support, but it must be controlled by the Sonos Controller app.
The company is also moving to shore up its relationship with Smart House's technology integrators such as Crestron, Lutron, Savant and Control4.
The partnerships will enable the companies to integrate Sonos' platform into their products. For example, Crestron users will be able to search and stream music on a Sonos system right from Crestron touchscreens, remotes and keypads, as well as directly from the Crestron app.
Last night at an event in New York Sonos executive said that once the Sonos and Amazon systems are linked, it basically replaces the Echo's speakers with Sonos's own devices for any music applications.
A full-scale release planned for 2017. Antoine Leblond, vice president of software at Sonos, described the deal as a "long-term strategic partnership."
Sonos has been grappling with the idea of voice controls at least as long as the Amazon Echo has been on the market, according to interviews with a half-dozen current and former Sonos employees Bloomberg claimed.
The fitful discussions came during a particularly challenging period in the company's 14-year history, after a less-than-stellar Xmas New Year period when sales fell, Sonos realised that voice was set to become a key component in the playback of content to their devices.
Sonos, founded in 2002, makes a line of speakers that connect to the internet and one another through their own dedicated Wi-Fi networks. The speakers look good, sound great, and allow for satisfying tricks like playing Spotify in the kitchen, Soundcloud in the bedroom and Pandora everywhere else in the house—all from a single smartphone application. The company's fans tend to exhibit enthusiasm bordering on cultishness.
When Amazon began selling the Echo in late 2014, executives at Sonos didn't see it as a threat.
Other voice-controlled platforms like Apple's Siri and Microsoft's Kinect controller for the Xbox had experienced only mixed success.
Also, Amazon's track record on hardware was spotty, and the brass at Sonos doubted a device with such inferior sound quality would tempt their core users Bloomberg wrote. What is not known at this stage is whether Echo is going to be available in Australia or whether a product purchased from the Amazon, website will recognise Australian accents.
<