REVIEW: Dyson Supersonic Hair Dryer – Ultra Fast, Frizz Free
Vacuum cleaner specialist, Dyson, has brought its trademark engineering prowess to the hair care industry, with the debut of a $499 Supersonic hair dryer – but is it worth it?
The pricey device follows five years of development and over 500 prototypes, with Dyson committed to creating an ultra-fast drying device, harnessing air not damaging heat.
Unboxing the fuchsia toned model, it's clear this is one premium device. Aesthetics have not been compromised and the build of the product feels solid, but not heavy.
With three magnetic styling attachments – including a diffuser for curly hair – the product claims to protect hair and minimise frizz.
The Supersonic hair dryer incorporates Dyson's V9 digital motor for 110,000 rpm with an "inaudible frequency" – a sound claim I'd warrant.
Compared to other hair dryers, Dyson's model is significantly quieter, albeit not silent. The sound is considerably less harsh, and overall 'gentler.'
With a 'vibration mount', the product features internal rubber to prevent the motor vibrating against the inside of the dryer's handle, reducing noise transfer between the motor and its case.
My hair is at its longest length in the last two years – about an inch past my under arms. Long layers, and very thick hair. It always amazes my hairdresser just how much hair I have.
As such, the first thing I noticed about the Dyson Supersonic hair dryer was its ability to dry my hair in a fraction of the time it usually takes. Overall, three to five minutes max, and I'm talking totally 100% dry.
Dyson states the hair dryer has been engineered to prevent extreme heat damage, plus deliver smooth, styled and shaped hair – oh, and also protect natural style. That's a whole lot of claims.
My regular hair drying routine incorporates an oil-based treatment which is mixed into damp hair and then blow dried.
Following the same routine, I can attest my wavy hair is significantly smoother and less frizzy, even when using the diffuser attachment.
Dyson credits 'Air Multiplier' technology for this feat, which draws in air and amplifies it three times, for a controlled high-pressure jet of air.
Over one hundred engineers claim to have produced this $499 device out of frustration with conventional hair dryers, and their bulky motors.
The product's motor is housed in its handle, not head, which I believe is one of the reasons why it feels much lighter than other models.
Like many other premium hair dryers, Dyson claims the Supersonic dries and styles hair at the same time – a point assessed when using the hair dryer to straighten my hair.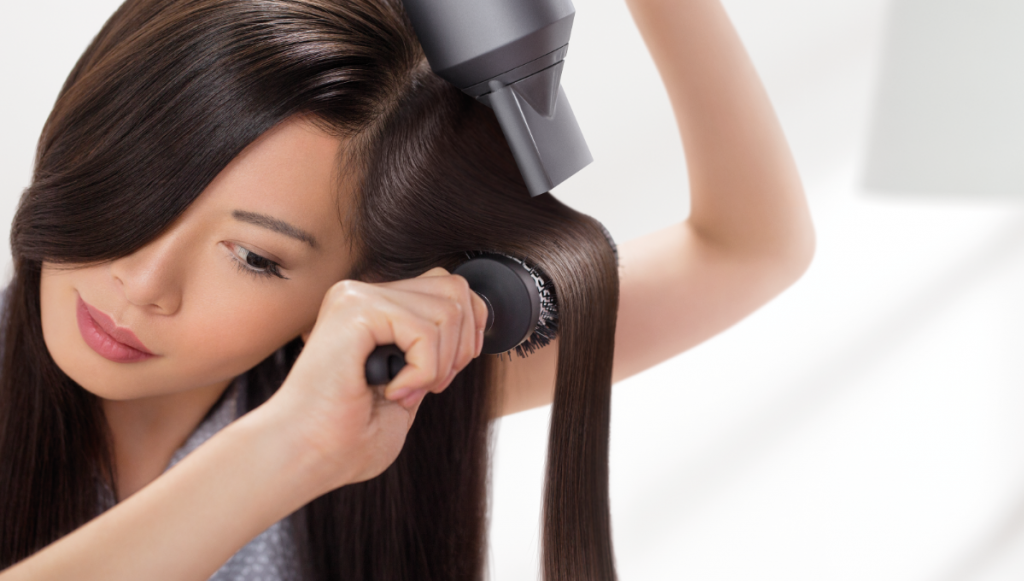 With my thick, frizzy hair, straightening via hair dryer is often a no go. The 'straightness' usually lasts for 45 minutes before frizz raises its head, leaving me to resort to my trusty [albeit more damaging] hair straightener.
I tried straightening my hair with the Dyson Supersonic hair dryer and an accompanying straightening nozzle, and truth be told I was floored.
The results were not quite as precise as my hair straightener, but boy did they last. I'm talking for several days.
Many may say $499 for a hair dryer is ludicrous, but the value of this product is undoubtedly in the engineering housed within.
Somehow, Dyson has managed to create a product which does dry, straighten and smooth hair, without making it feel dry or damaged.
The company claims to have tested the product with over 1,000 miles of hair, ensuring damage was minimised and hair protected.
Whilst I can't comment on internal hardware, the product does leave my hair feeling vastly different, versus my usual $200 hair dryer.
"Fast drying isn't just about high‑speed air," asserts Tom Crawford, Dyson Global Product Development Director.
"You also need the right balance of pressure and turbulence. You need to control the air, and make it stable."
The product has been engineered to keep temperature under 150C – a thermal sensor measures exit flow temperature 20 times per second, and transmits data to the machine's microprocessor to intelligently control the heating element.
While that's a lot of tech speak, Dyson has clearly integrated a lot of technical smarts within the hair dyer, leaving my hair most pleased.
Many of the claims are instantly noticeable, however, I believe the true power of the product is the long-term hair heath benefits.
Potentially less money spent on after care treatments, with more effort spent finessing my hair, than treating damage.
"You need a certain amount of heat to style hair, but extreme heat can cause damage," claims Dyson Design Engineer, Annmarie Nicholson.
"By keeping the temperature under control, our dryer can help protect your hair."
Dyson's Supersonic hair dryer comes with three speed settings, and four heat settings – each illustrated with small LED indicators. As mentioned, this premium device has not skimped on aesthetics, producing an ultra-sleek exterior.
Like other hair dryers, the product has a 'cool' function too.
I appreciate that the hair dryer air filter has an easily removable cover, with indicators to alert when cleaning is required.
One con with the product is the lack of included protective travel case.
It's a shame such an expensive product doesn't come with such a basic accessory. It makes travelling with the product that bit harder.
Overall
From the onset, it's clear this is one premium device, both in technical smarts and exterior finesse.
Dyson's claims of five years development and 100+ engineers has produced a device which truly does leave hair smoother and less frizzy in a fraction of the usual drying time.
Costing an eye-watering $499, I personally wouldn't warrant its value to the ad hoc hair dryer user.
However, if you're a frequent user and someone with medium to long hair, it's hard to discount the long term benefits of significantly healthier hair, and ultra-fast drying times.
It's a pleasure to use, pleasure to hold and is noticeable lighter and quieter than other models, particularly those around the traditional $200 mark.
I have thoroughly enjoyed the benefits of more hydrated hair, and the difference in dryness was noticed from day one.
By consequence, I use significantly less hydration-based and frizz-reducing products, so this may be something to factor in when assessing the cost to value equation of this expensive hair dryer.
The long-lasting straight hair factor this product provides is personally extremely valuable, though I do wish a travel case was provided.
I now look forward to Dyson's hair curling products, because this dryer's innovative build prevents wrist fatigue – often a gripe when curling.
Overall, Dyson's Supersonic hair dryer is clearly a case of 'you get what you pay for.'
RATING: 9/10
Dyson's Supersonic Hair Dryer is available from several Australian retailers including The Good Guys for $499, with further information available here.