Review: D-Link AC1900 EXO Hits The Sweet Spot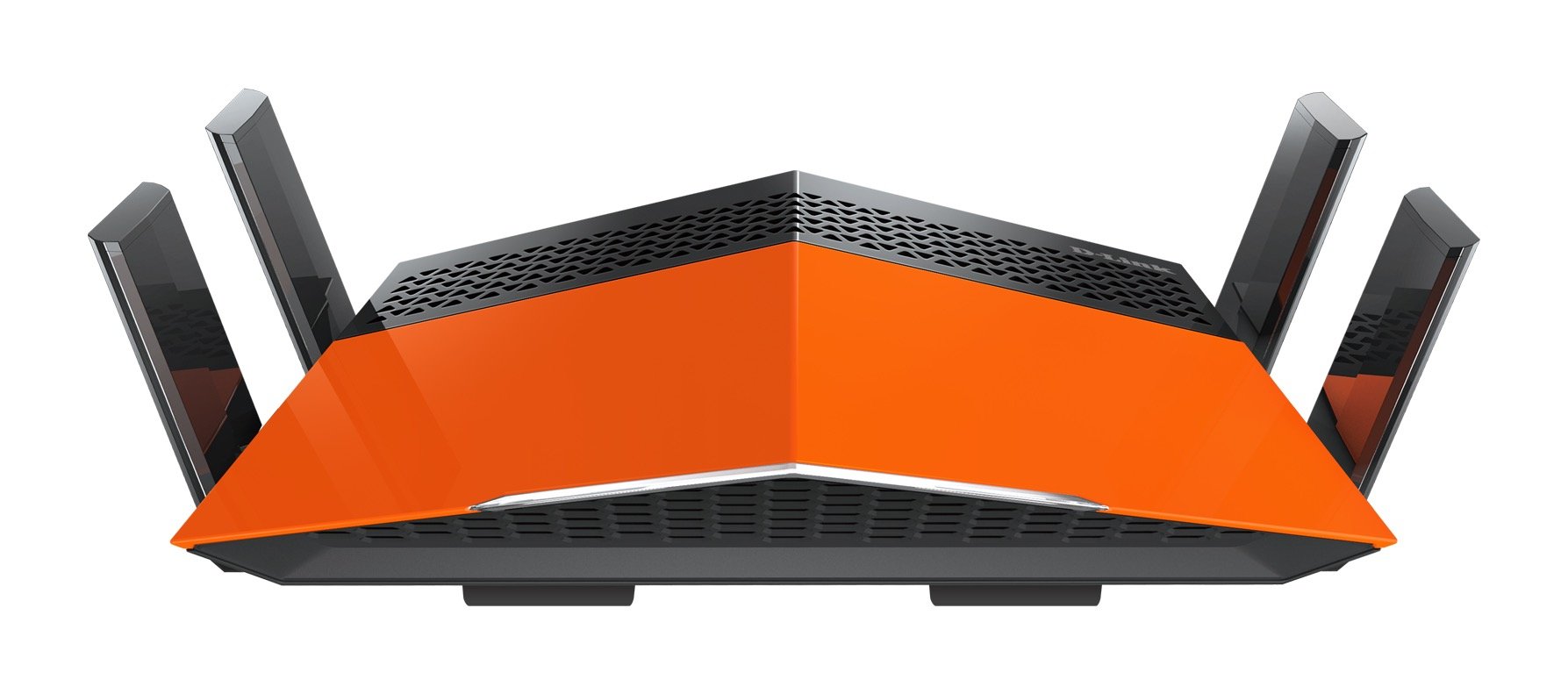 The biggest thing that D-Link's new DIR-879 AC1900 EXO Wi-Fi Gigabit Router is promising to do is hit the sweet spot between speed, coverage and affordability. It's easy to burn money on an ugly box that offers superior and reliable coverage or on one that boasts an evocative design but falls short when put into practice. Put simply: finding a decent mid-tier router that has it all can be a costly exercise.
The DIR-879 doesn't quite push the boundaries of how a router is supposed to look in the same way that Netgear's Orbi does but it's hard to deny it doesn't cast a distinctive silhouette. It's the latest iteration of the stealth bomber-inspired design introduced with the D-Link DIR-895L Ultra Wi-Fi Router and keeps things looking stylish.
There are four plastic antennas which can be snapped into an upright position built onto the DIR-879. These antennas work together with a set of high-power amplifiers to provide wireless AC dual-band connectivity of up to 1300Mbps on the 5GHz band and up to 600Mbps on the 2.4GHz band.
Although the clean orange optics of the device give it a slightly different tone to most routers – it's definitely not a bad vibe. Even at first glance, it registers as a premium router that's worth the $350 price tag. That confidence, embodied by the sleek design of the DIR-879, actually ends up carrying over into the performance side of things.
During our time with the DIR-879, we ran it through its paces for gaming, high quality media streaming and just everyday internet usage. The coverage it offered on all three of these fronts proved both extraordinarily reliable and fast. What's more, the DIR-879 proves remarkably versatile when it comes to managing that coverage. It tracks the locations of devices connected to it and optimizes their connection in real time.
Even if you don't want to mess with your existing home network setup, there's a case to be made for the DIR-879. The physical range-extender switch and SmartConnect tech built into the router can allow it to work in tandem with another router to enhance your Wi-Fi coverage.
Conclusion
Whether we're talking aesthetics or utility and performance of it, the DIR-879 is a product that resonates. A good router doesn't need to check all that many boxes but a great one goes above and beyond them. The DIR-879 is packing value in every sharp angle and well worth the attention of those who seek a router that can do it all.
Score: 4.5/5.0
The D-Link DIR-879 AC1900 EXO Wi-Fi Gigabit Router is available now for an RRP of AUD$349.95 at all D-Link resellers and retailers.