Netgear Canvas II Announced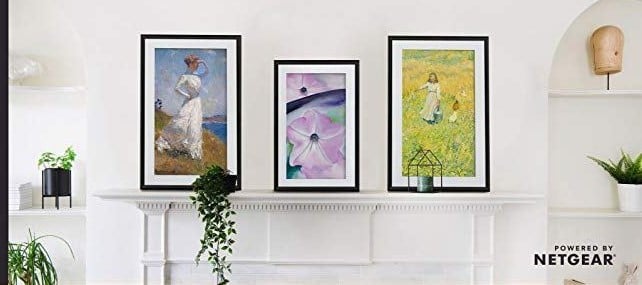 Netgear has unveiled its updated Canvas digital art display from Meural, following the acquisition of the connected frame company, bringing some minor improvements to an already great product.
The Meural Canvas II from Netgear is available in two sizes, the 21.5-inch for $399.95 and the 27-inch model for $599.95.
Unfortunately, the digital art display is only available for pre-order in the US, though considering the original Canvas is being sold in Australia, ChannelNews expects the second iteration to find its way here soon enough.
Both screens sport a 1080p full-HD display with ambient light sensors, now located under the mat that surrounds the screen, to automatically adjust screen brightness.
Powering the display is a 1.8 GHz Quad-Core ARM Cortex-A17 processor with 2GB of DDR3 RAM and 8GB of storage.
Built-in Wi-Fi, thanks to Netgear, has also been upgraded with ethernet connectivity added for a more reliable and stable connection.
If you aren't connecting the Canvas II digital art display to the internet, then the included full-sized SD port will give you as much art as you need to display for weeks on end, even GIFs.
There's even a Marvel artwork pack available for all those superhero fans out there, though sadly no DC Comics.
Each Canvas II comes with 42 preloaded images and access to 100 sampler images from Meural's art library.
The Canvas II is mounted vertically or horizontally, and thanks to the optional Swivel Mount (US$49.95), it's easy to rotate the display however you want.
Controlled via the Meural companion app, Canvas II has access to 30,000+ curated collections of artwork, some free and others at a cost.
Paying for a subscription to the Meural art collection will get you 30GB of cloud storage for uploading your art or photographs, as well as discounts for purchases and access to a much more extensive photo library.
The subscription will cost US$8.95 per month, or US$69.95 for a whole year.
Motion controls have even been included allowing users to navigate between artworks and photographs, plus other functionality like accessing menus and changing art playlists with the wave of a hand.
Or if you prefer using your voice, you can call on Amazon's Alexa to find new artwork.
Through the app, users can also curate their favourite artworks, personalise their settings and schedule what displays and when.