EXCLUSIVE: Online Retailers Give ATO Two Finger Salute Over GST
An exclusive investigation by ChannelNews reveals that Australian consumer electronics and appliance retailers are now having to compete online, up against questionable overseas operators who in many cases are not collecting GST, instead they are telling consumers that they are liable to pay GST payments.
Local operators have told ChannelNews that the overseas sites have already worked out that the Australian Federal Government are "not resourced enough" to collect GST money from overseas operators and several who closed down when the tax was introduced in July 2018 are now back in business.
Others are simply selling goods and not paying taxes or are telling consumers that they are " liable for paying the tax.
Documents shown to ChannelNews reveal that several are charging GST but refusing to issue a tax invoice for goods sold to Australian.
Earlier this year the Federal Government announced that effective from 1 July 2018, all online orders from overseas under $1000 would start to incur GST and it would be the retailers/marketplaces responsibility to collect the GST and remit to the ATO.
The initial impact of this was that many international retailers with no local presence or logistics capability quickly pulled out of the Australian market and this significantly reduced competition resulting in local retailers such as Kogan, JB HI Fi, and The Good Guys witnessing a lift in sales.
Now we can reveal that many overseas retailers are either ignoring or bypassing the need to collect GST on orders to Australia.
ChannelNews can reveal that several operators simply closed down their local stores with the introduction of the tax they included Amaysim who late year were bragging about their "new" online mobile shop that was selling grey imported mobiles.
Also closing down was digital camera importer eGlobal, Android Enjoyed, Camera Sky and over 25 other traders.
Now local retailers who are collecting GST and rebating it back to the Australian Tax Office are having to compete with sites who are selling goods into Australia without any reference to GST collection. They include a website called Toby Deals
who are selling Gold Apple iPads significantly cheaper than what Australian retailers sell for.
Others include eGlobal Central AU who are selling Google Pixel smartphones for $460. The Digital Rev store is also selling digital cameras in Australia with no reference to a GST payment.
A query sent to DigitalRev's customer service team confirms that DigitalRev does NOT collect any GST, nor do they remit any GST to the ATO.
Another site that appears to be bypassing GST collection is Becex Tech Australia, they are selling new Samsung Galaxy S9 smartphones with Dual Sim for $849. The same smartphone is selling at Harvey Norman for $1,199 with GST included.
When queried the online operator openly admitted that their view is that "customers are responsible" for any import duty or GST taxes.
Wonda Mobile are selling the new Apple XS Max with 64GB of memory for $1,819 there is no indication of tax collection. The same device is selling at Harvey Norman for $1,799. The Harvey Norman price includes $179 GST.
Yesterday Kogan.com's shares fell 24% after the online retailer revealed that being forced to apply GST to smartphones and other leading products had hit sales in its direct-import business. The company on Monday said direct import sales – which accounted for 18 per cent of its business last year – had fallen 27.4 per cent in the first three months of the financial year compared to the same period a year ago.
This was driven by the application of GST to those sales, along with "apparent avoidance of GST by a number of foreign websites selling into Australia", the company said, which also contributed to a decrease in its gross profit margin.
One major online operator who did not want to be named at this stage said "In the last few weeks, it's been noticed that there has been an escalation of "dodgy" retailers avoiding the GST. This likely came about as it took them some time to realise that the Australian government is not actually enforcing the new rules (either through lack of capability or desire)"
"All of the major and respectable retailers are complying, and the "dodgy" ones have seen this as an opportunity to get a significant advantage over the market but not complying with the law. The retailers who are not complying don't have any local presence and are renowned for not honouring warranty and service obligations as they are not subject to local regulators".
The unintended consequences of the GST changes will be that more and more sales are pushed to the unregulated retailers as they have a significant price advantage by illegally avoiding GST – this may have a very negative long-term impact on legitimate Australian online retail".
BELOW ARE MORE EXAMPLES OF SITES THAT APPEAR TO NOT BE COLLECTING GST OR ARE TELLING CONSUMERS THAT THEY ARE LIABLE FOR ALL AUSTRALIAN TAXES. 
BecexTech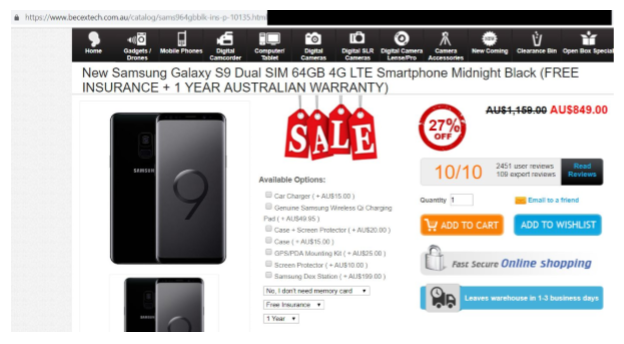 T-Dimension
DWI