Toshiba Approves Chip Business Sale To Bain-Apple Group for $22b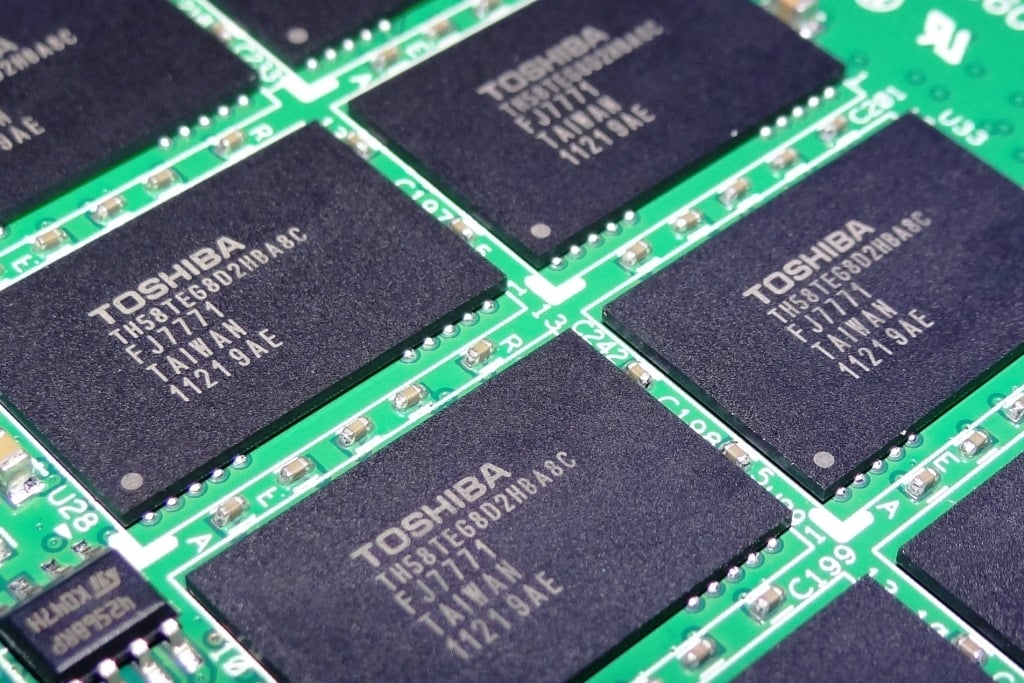 Following a tumultuous process spanning over eight months, Japanese electronics maker Toshiba has agreed to sell its flash memory chip business for $22 billion to a consortium led by Bain Capital, inclusive of Apple.
The Bain-led group comprises of Japanese and overseas companies such as; Apple, Dell, SK Hynix and Hoya. Toshiba, itself, will also be a backer to the sale.
Sources state, Californian-based Apple played an essential role in swinging favour towards the Bain group's offer.
Reports state, Apple's interest in the chip business is rooted in the strategic importance of flash memory – compact chips are crucial for storing media files in its iPods and iPhones.
Thus far, Samsung Electronics is dominant player, controlling about 40% of the flash memory market.
As such, Apple's investment in Toshiba's chip business could ensure the marketplace for crucial chip components remains competitive, as should Samsung Electronics increase in stature it could cause pricing issues for Apple, a notable rival for its smartphone business.
Bain Capital are expecting significant demand, coupled with increasing prices for memory chips – the organisation recognises that only a small number of companies can afford to invest in the development of such plants.
As previously reported, Toshiba sought to sell of its valuable chip business to cover the billions of dollars of losses accrued from its American nuclear business. The organisation aimed to raise funds by March to avoid delisting from Tokyo's Stock Exchange.
As such, Toshiba expects to close the deal by March 31st, with the intention to restore a positive net worth by the end of the fiscal year, thereby avoiding delisting from the TSE.
Western Digital, who has a partnership with Toshiba's chip business, was a strong and rival bidder. It argues because of its partnership, it should have veto rights in any sale. Toshiba disputed the claim and sued Western Digital for over $1b for interfering in the sale process.
Western Digital has sued, and filed for arbitration in California, in a bid to plead its case.
Enclosed in Wednesday's agreement, Bain Capital has agreed to complete the deal regardless of legal challenges.
Excluding Western Digital from the deal has only worsened its relationship with Toshiba, with the possibility it could undermine the success of its $15.8 billion acquisition of SanDisk last year. SanDisk is a joint-venture partner with Toshiba in producing chips.
Sources state, should the dispute with Western Digital not be resolved by deal closing, three joint ventures between itself and Toshiba will not be transferred across to the Bain group, and the purchase price adjusted.
Whilst the bidding process was long and tumultuous, sources state the Bain-led consortium was determined the preferred bidder nearly three moths ago, however, the process was delayed on the back of various lawsuits and government opposition.
As many rival bids were made for Toshiba's chip business, Bain eventually sought to revise its initial offer. The American-firm is said to have sought further financial backing from Apple, requesting about US$7 billion in capital (up from its initial ask of US$3 billion). Thus far, it's unclear exactly how much Apple will contribute to the acquisition overall.