New Alienware Line-Up Is Optimised For VR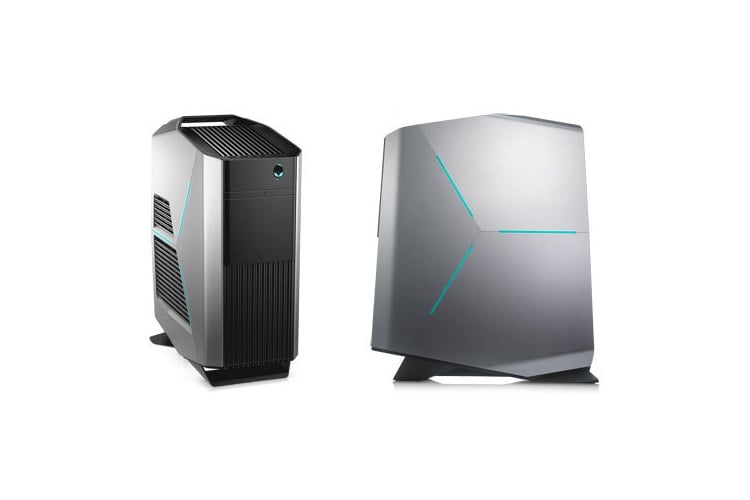 Dell's Alienware has taken the wraps off a number of new products geared towards virtual reality gaming at E3 2016.
The new line-up includes the Alienware Aurora mid-tower desktop, which, while having a smaller footprint than the previous Aurora, is decked out with the latest Nvidia GeForce cards for 4K or even up to 12K gaming as a dual-graphics-capable desktop.
Other performance improvements include the latest Intel CPUs, available with liquid cooling, and overclockable memory available with Kingston Fury X running at 2,400 MHz, while the Aurora also includes Alienware's first chassis with tool-less access for easy swapping of GPUs, along with as many as three of five potential storage drives.

Dell states that its new ultra-small form factor PC Alpha "is the perfect Windows gaming system for virtually any room", coming fully upgraded with a Nvidia GeForce GTX 960 GPU with 4 GB of GDDR5 memory, delivering over 60 per cent higher GPU performance than the previous generation.
The Alpha is also configurable with a new AMD Radeon graphics option, with Dell stating it sports better frame rates at higher resolutions and higher settings, while, pushing performance to VR and 4K gaming levels, the Alpha is compatible with the Alienware Graphics Amplifier.

Dell states that the Area-51 full-tower gaming desktop is now equipped with the new Intel Core i7 Broadwell-E CPUs, ranging from 6 to 10-core options, along with Nvidia's latest GeForce Pascal graphics technology.
"According to Intel, the Core i7 delivers up to 35 per cent faster multi-threaded performance, and combined with the new GeForce GTX graphics there is a new standard for multi-tasking and VR," Dell states.
"The iconic triad design exemplifies Alienware engineering prowess, with support for up to three full-length double-wide graphics cards, easily removable side-panels, convenient access to ports and carrying handles, as well as a highly optimised thermal management system."

Dell states that the Alienware 13, previewed at this year's CES, is the world's first gaming notebook to offer OLED display technology designed in partnership with Samsung.
The Alienware 13 touchscreen display "offers an astronomical contrast ratio of 100,000:1", with Dell stating that it also delivers better colour saturation.
"With the fastest response time on a notebook, typically 1 ms, gamers get a display performance experience never before possible on an LCD," Dell states. "Compatibility with the Alienware Graphics Amplifier allows for boosted graphics performance now, or in the future, and an even better experience with this stunning display."
Further information on the new line-up can be found here.