LG Throws Down TV Gauntlet With Rollable 65″ OLED TV
As Hisense bangs on about old fashioned Laser TV technology LG and Samsung have pushed TV technology to a new level at CES 2019, Samsung with their new 75″ Micro LED TV's and LG with a new cutting edge rollable TV with the two set to battle it out in the Australian TV market this year.
At the heart of both LG and Samsung TV offerings are new seriously advanced processors which upscale both picture and sound.
Last night Samsung revealed a 75in (190cm) television made of modular micro LED panels, this technology has predominantly been used in large applications such as billboards now it is heading to the consumer market.
Today it was LG's turn to try and seek bragging rights at CES.
12 months ago, LG showed a rollable 65-inch 4K OLED TV, now the Company has delivered the LG Signature OLED TV R (model 65R9) to market in a sleek cabinet and with advanced processor and advanced base station they have also added a 100-watt Dolby Atmos speaker that delivers thumping high quality audio.
This is a TV that my wife will love because one minute it is there and the next minute it's gone rolled up into a sleek stylish cabinet.
However there are real risks in buying an early version of this product as has been proven with LG premium TV's. Another issue is that LG has a reputation for launching a premium TV one minute and months later dropping the price significantly as they did with their 2018 OLED lineup.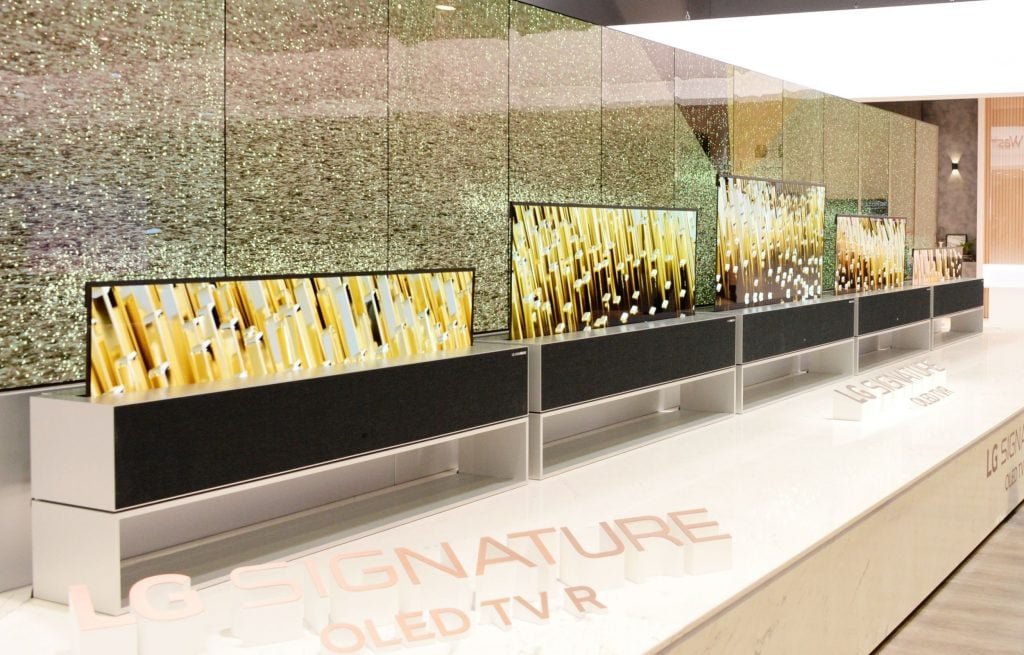 What TV manufacturers have finally realised that consumers don't want big ugly TV's taking up space in their homes. Now brands such as LG and Samsung are designing products that blend better into the home. Samsung has The Frame, which can pass as a hanging piece of art on your wall when not in use.
LG has gone one step further by delivering a TV that simply at the touch of a button drops slowly and very steadily into the base and, with the push of the button again rises back up in 10 seconds.
As for durability the jury is still out on this device problems that could emerge such as constant up and down could be a problem especially if children love pressing a button. Maybe it is time for fingerprint control on a remote.
There's also a mode — LG calls it "Line Mode" — where the display will drop down so that only about one-fourth of the panel is showing. You'll still have on-screen music controls and the option to control your smart home gadgets in this mode. LG also includes some mood-setters like a crackling fireplace or rain sounds. I'm not sure how much use those will get in the real world, but it's a thing you can do with your futuristic rollable TV.
Support for Alexa voice controls are being added this year in addition to the existing Google Assistant integration in LG's webOS software which comes with all LG TV's.
LG has assured me that user of their rollable TV don't lose or sacrifice anything in terms of picture quality.
This TV is tipped to hit retail stores in the second or fourth quarter and could well be priced over $15K. There was a time when Australians were prepared to fork out $20K for a plasma TV so this should be a bargain at between $15-$20K