JB Hi-Fi Delivers "Record" HY18 Results, Sales Soar 41%, Profit Up 21%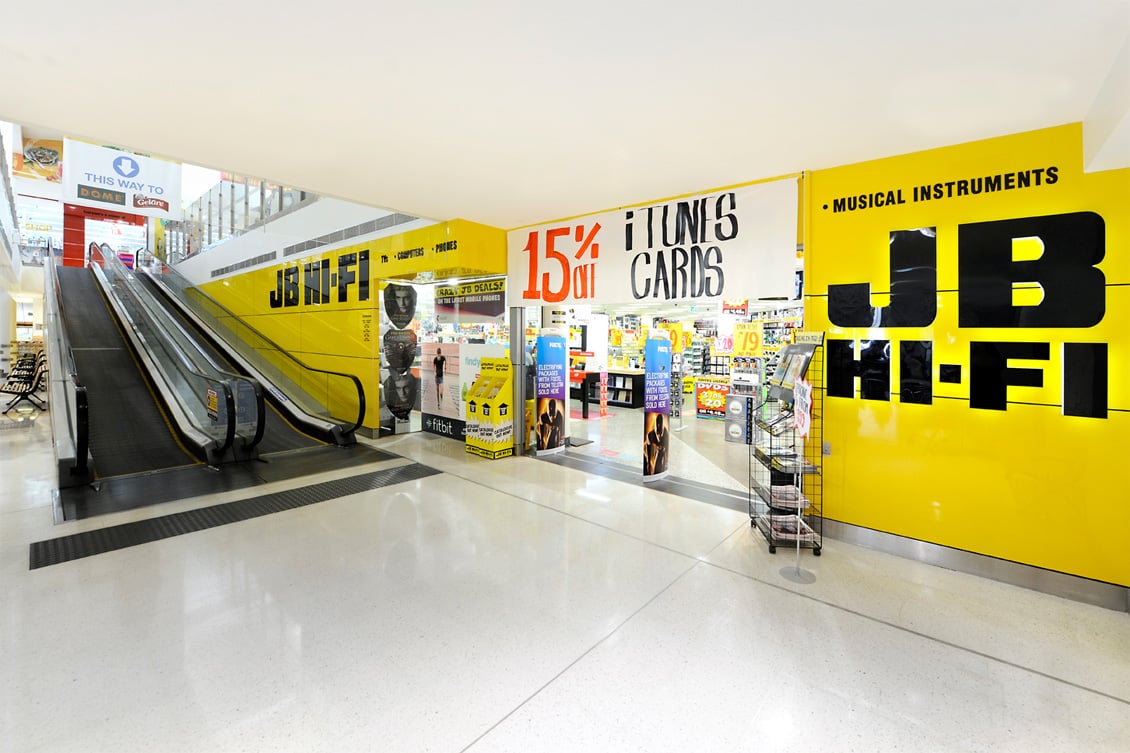 UPDATE – Since releasing its HY earnings result, shares in JB H-Fi have dived 7.6% to $25.95, as the retailer's full-year forecast falls nearly 3% below some analysts' expectations.
Despite the launch of Amazon Australia, JB Hi-Fi has posted a "record" HY18 earnings result, notching a 21% rise in net profit [after tax], and a 41% increase in total sales.
For the six months to December 31st, JB Hi-Fi nabbed a net profit [after tax] of $151.7 million, with total sales of $3.68 billion, compared to $2.61 billion in HY17.
The retailer has declared an interim dividend of 86 cents (fully franked) per share – a notable 19% increase from the previous corresponding period.
For HY18, JB Hi-Fi posted a 24.9% increase in EBIT – $225.8 million versus $180.8 million recorded in the same period last year.
Gross profit for the period climbed 9.8% to $545.3 million.
The results reflect strong holiday sales, despite the arrival of Amazon Australia. JB Hi-Fi states its fastest-growing categories during the Christmas period include; drones, gaming hardware, audio devices and computer and communication devices.
For the period, online sales soared 40%, and now represent 4.8% of total sales.
JB Hi-Fi's Solutions business nabbed "double digit" sales growth, which the retailer states is on track to hit a long-term aspirational sales target of about $500 million per annum.
Sales growth in January marked a 7% increase, however, is lower than the 10% lift recorded last year.
Following its sale to JB Hi-Fi in November 2016, The Good Guys posted a 4% total sales decrease in January, versus 5% growth recorded last year.
Despite this, half-year total sales for The Good Guys jumped a whopping 318% notching $1.09 billion. This is compared to a result of $263 million in HY17.
The Good Guys also nabbed a 342.1% increase in gross profit – from $51.7 million in HY17 to $228.6 million for HY18.
JB Hi-Fi Chief Executive, Richard Murray, affirms the company is pleased with the "record" results:
"We are pleased to have delivered record sales and earnings in the first half"
"It was another strong result for the JB Hi-Fi business in Australia, particularly through the important November and December periods".
During the period, JB Hi-Fi opened up seven new Australian stores, plus two new The Good Guys outlets. JB Hi-Fi closed one store in New Zealand.
New Zealand remains a weak spot for JB Hi-Fi, with sales dropping 0.4%, however, lifting 2.4% for The Good Guys NZ.
Concerning future outlook, the group expects full-year net profit to be between $235 million – $240 million. The forecast indicates a 13.1% – 15.5% lift of yearly underlying results, compared to the previous period.
Following on from the acquisition of The Good Guys, total group sales are forecast to be around $6.85 billion. This comprises $4.75 billion from JB Hi-Fi and $2.1 billion from The Good Guys.
The "record" results mark another milestone for JB Hi-Fi, who recently nabbed a place on Deloitte's list of the world's top 250 retailers. JB Hi-Fi came in at No. 218, and is only the third Australian retailer to boast a place.