EXCLUSIVE: Harvey Norman Commercial Staff Claim They Are Owed Super After Forensic Audit
The Harvey Norman Commercial saga, which resulted in the sacking of veteran franchisee Alan Stevenson after a forensic audit of the NSW business, has taken a new turn, with claims that tens of thousands in superannuation payments were not paid to staff while he was running the franchisee.
Earlier this month we exclusively revealed that Stevenson, a 38-year veteran at Harvey Norman, was sacked and that forensic accountants had been appointed to investigate the retailers most successful store operation in the world. This resulted in senior management being charged following a police investigation.
See the story here.
To date Stevenson has not been charged with any offences, ChannelNews has been told  investigations are still ongoing.
ChannelNews has been told that Harvey Norman franchisees who have run store operations for several years are also facing the possibility of a forensic audit going back several years following the extensive audit of the Harvey Norman Commercial operation.
the findings at Harvey Norman Commercial are believed to have shocked Harvey Norman Chairman Gerry Harvey, a longtime friend Stevenson and directors David Ackery and Katie Page.
ChannelNews has been told that the 'Superannuation payment' problem goes back several years, and that head office management were made aware of the problem back in 2006.
Insiders who claim that they are still owed money told ChannelNews that Harvey Norman Director David Ackery, "instructed Stevenson to fix the problem" as far back as 2006.
"But Stevenson never did", they claim.
According to correspondence obtained by ChannelNews, both former and current staff are owed tens of thousands of dollars in back superannuation payments.
ChannelNews has been given a list of names of people who are allegedly owed money. They include people who have worked for Harvey Norman for more than 20 years. Some are still working for Harvey Norman Commercial, others have already retired.
ChannelNews has also been given pay slips of several employees who claim that they should have been paid superannuation on the commission they earned at Harvey Norman Commercial.
Employees claim that Superannuation payments were paid on the base salary, but not on the commissions earned by employees.
Several days ago, we sent Harvey Norman Director David Ackery several questions relating to the lack of superannuation payments on commission.
Ackery has not responded, despite being given several days to respond.
He has also not denied that Harvey Norman Commercial, a franchisee operation, failed to pay superannuation on commissions and that head office were aware of the issue long before the recent problems at Taren Pont were exposed.
Forensic audits relating to head office payments and the reporting of stock sales, following the sacking of long-time Harvey Norman Commercial franchisee Alan Stevenson could now become "The norm" for Harvey Norman franchisees, claim one observer.
This is seen as a check measure to ensure that what has been discovered at Harvey Norman Commercial is not happening at other franchisee operations that have seen.
The shock revelations at HNC Taren Point, which has seen former staff charged with the theft of more than $600,000, shocked both HNC staff and  management and directors at Harvey Norman, whose share value has fallen 28.99% during the past 12 months Vs 13.69% at JB Hi-Fi.
Stevenson has told people that Harvey Norman's head office stock control operations "are a mess."
He even alluded to the issues, claiming Flemington head office was a mess in a leaked memo, where he claimed, "We all know it has been a very difficult 2 years compounded by the staff theft of approximately $600,000 and the sloppy procedures relating to our Aged Trial Balance over a 20-year period (by our operations Manager at the time and our Flemington teams lack of follow up."
Another franchisee told ChannelNews that, "Head office IT operations are not the best and there is the real possibility that some franchisees have taken advantage of this."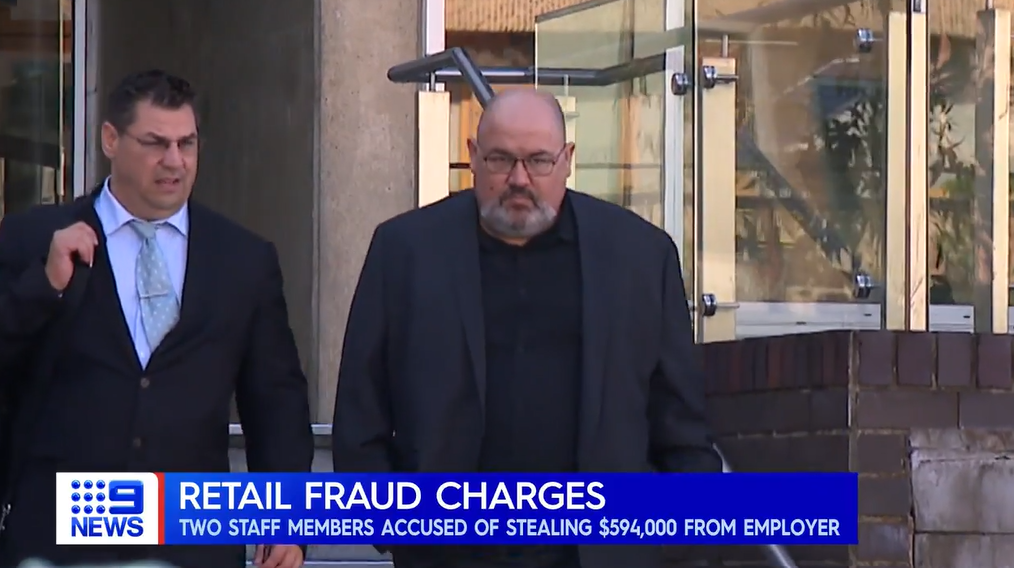 At this stage ChannelNews has no knowledge of any franchisee gaining a benefit similar to what management at Harvey Norman Commercial management are accused of.
ChannelNews understands that when Samsung was trying to chase down over five hundred Harvey Norman customers in 2020, who had purchased a recalled washing machine that had burst into flames in several homes ,the mass retailer was according to sources "Unable to provide information on customers", despite several financing their purchase via Harvey Norman.
According to sources, Samsung was told that "Harvey Norman systems are not up to capturing this information."
The operations of Harvey Norman Commercial at Tarren Point NSW have been described as the most profitable franchise in the world for the big retailer.
The two people charged to date are Troy Robinson, the IT Manager, and Kerry Dalton, the former Administration Manager.
The case against Kerry was transferred from the Illawarra local court to Sutherland District Court, where the maximum penalty could see her spending five years in jail if found guilty.
Currently, HN management are investigating deals approved by Stephenson with a builder who went into liquidation, despite warnings from head office management that the franchisee was not to deal with the builder in question.
Stephenson, who is known to own several properties, is believed to have also had an interest in the Taren Point property where the Harvey Norman Commercial operation is located.
ChannelNews understands that a horse farm owned by Stephenson at Bargo in New South Wales is set to go up for sale shortly, with some insiders claiming part of the sale process could be repaid to Harvey Norman following the recent forensic audit.
Former employees have told ChannelNews that Stephenson sometimes requested "Volunteers" of his commercial staff, to work at Bargo, to maintain and improve the property, including painting this property in regular HNC work hours.
Those who did not want to volunteer were made to feel their jobs were at risk, they claimed.
Some of those who did not "help out" were made redundant, claim insiders.
We have also been told that Harvey Norman management are investigating the relationship between Stephenson and other members of staff who were asked to do tasks for him in HNC time.