Chromecast On Steroids: Stream HD Video Over 50 Metres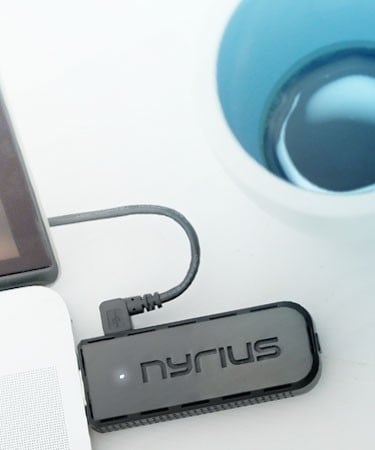 Connectivity specialist Nyrius has launched a Chromecast on Steroids, the Aries Pro+, a wireless transmission system capable of streaming latency-free 1080p HD video over 50 metres.
Available from the Nyrius website for US$274.96, ARIES Pro+ Wireless HD Video Transmitter & Receiver can stream HD video from any HDMI source to a USB powered receiver.
Unfortunately, the Canadian company does not ship to Australia.
The powerful long-range range signal is capable of transmitting through walls, floors and ceilings with a line of sight range of over 50 metres.
Nyrius claims the Aries Pro+ is also latency-free meaning no delay or disruption to your feed.
The advantage of this really takes shine when combined with drones or DSLR photography.
Add the USB source to your camera setup for remote monitoring in real-time.
Unlike typical casting devices, the Aries Pro+ can transmit without the need for an internet connection or additional software – it's plug and play.
It comes as wireless audio association WiSA is pushing for a cable-free home entertainment system, joining forces with the likes of LG to make their new OLED range of 4K TVs compatible with wireless audio.
Perhaps a future of wireless everything may be on the horizon with the launch of the Nyrius Aries Pro+.