13CABS Accused Of Falsifying Documents to Slam Uber
Taxi company 13CABS has been accused of falsifying documents for a campaign slamming ride-sharing service Uber.
13CABS uploaded a picture on Facebook of what seemed to be an Uber receipt of a customer being charged $350 for a ride between Melbourne CBD and Tullamarine Airport due to the company's surge pricing.
13CABS says a taxi ride on the same route costs $70.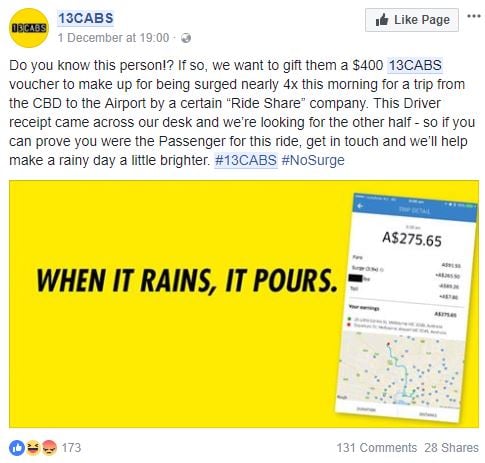 Uber was never named in the post only mentioning a certain 'ride share' company with the picture of the receipt looking similar to an Uber receipt.
A spokesperson for Uber says the receipt is real however it was not from the storm last weekend, "After further investigation, we now believe this was an old XL receipt from several weeks ago that was repurposed to falsely claim it was a trip that occurred during Friday's storm."
A 13CABS spokesperson told Mumbrella, "The receipt in question was provided by a ride share driver late on Friday. The receipt shows what the driver earned, and demonstrates the price surge was 3.9 times the basic fare. We have no reason to believe the receipt is anything but authentic."
13CABS is prominent in Sydney, Melbourne and Brisbane.